Ceremony, Blood Red Shoes, The Legendary Tigerman e peixe:avião são os novos quatro nomes a juntar-se ao cartaz da edição de 2015 do Vodafone Paredes de Coura. O anúncio foi avançado, esta manhã, pela organização e traz de volta a Portugal a dupla Blood Red Shoes que trazem na bagagem o seu mais recente álbum de estúdio, o homónimo Blood Red Shoes, editado o ano passado, a marcar a sua estreia na produção e edição de autor, através da etiqueta Jazz Life. O duo atua a 19 de agosto.
Ainda no mesmo dia e em estreia nacional, os californianos Ceremony que apresentarão The L-Shaped Man, editado pela Matador Records, no presente ano. peixe:avião atuam no dia 20 de agosto e a 22 de agosto The Legendary Tigerman traz até ao Taboão o seu mais recente registo, TRUE, editado o ano passado.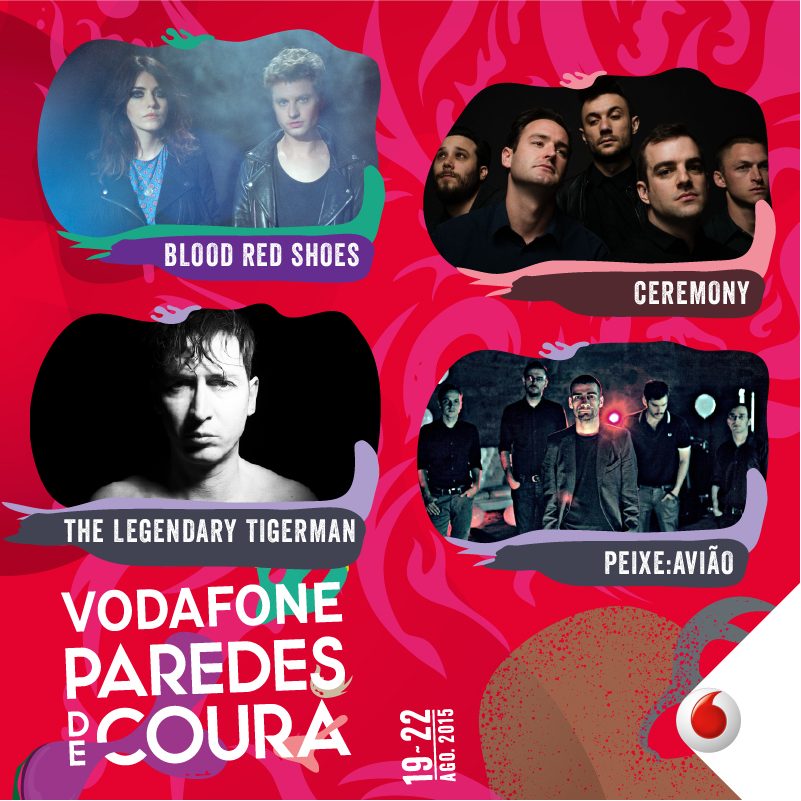 O festival decorre entre os dias 19 e 22 de agosto, na Praia Fluvial do Taboão, em Paredes de Coura. Os passes gerais têm um preço de 85€.
Já confirmados:
19 de agosto: Gala Drop, Slowdive, TV On the Radio, Blood Red Shoes, Ceremony
20 de Agosto: Steve Gunn, Iceage, White Fence, Pond, Fuzz, Father John Misty, Tame Impala, peixe:avião
21 de agosto: X-Wife, Waxahatchee, Allah-Las, Mark Lanegan Band, Charles Bradley and his Extraordinaires, The War on Drugs
22 de agosto: Sylvan Esso, Banda do Mar, Natalie Prass, Woods, Ratatat, Temples, Lykke Li, The Legendary Tigerman