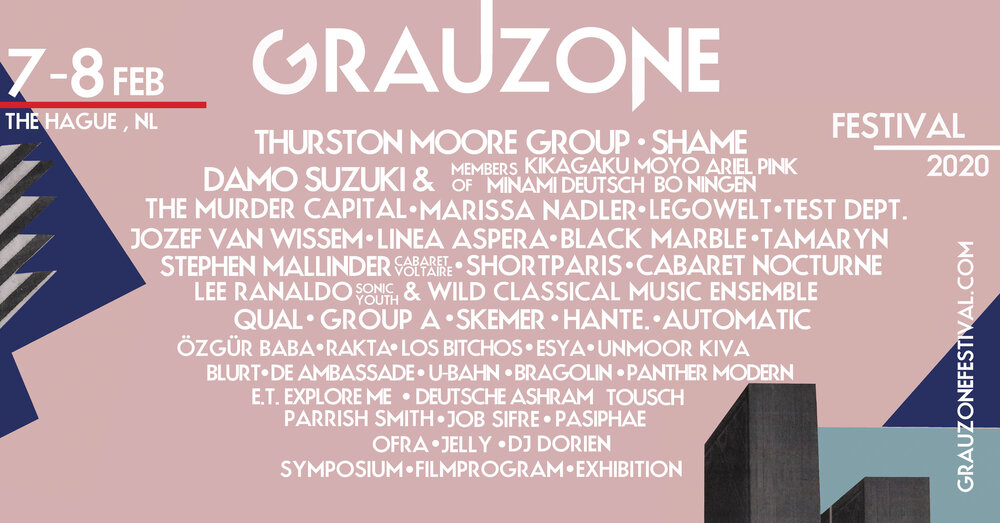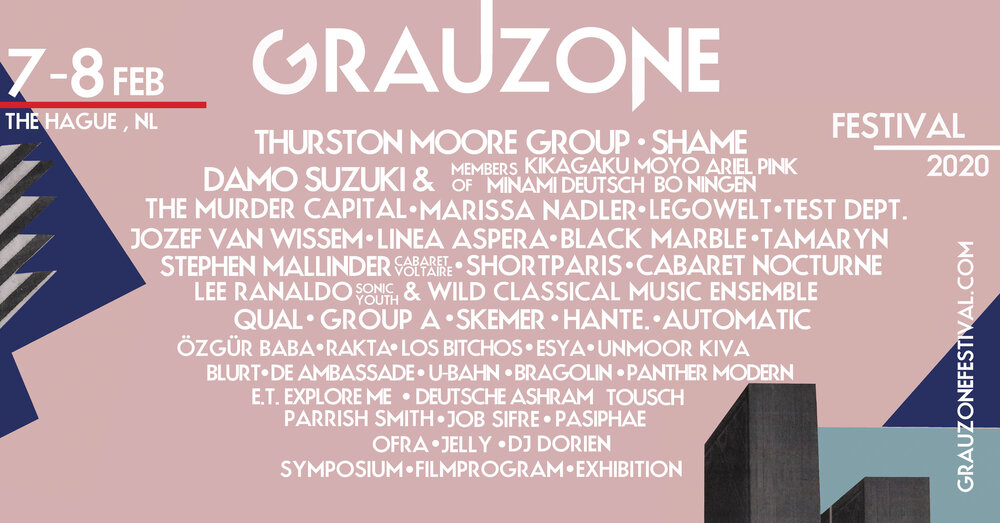 O Grauzone regressa este fim-de-semana aos países baixos numa edição especial dividida por dois dias, começando na sexta-feira, dia 7 e finalizando no sábado dia 8. 2020 marca também o programa mais extenso na história do festival, com mais de 40 apresentações e um extenso programa paralelo – tudo em locais culturais e vida noturna importantes no centro da cidade The Hague. Além de um encontro das novas sonoridades de vanguarda, o Grauzone inclui ainda programação cultural que, além da música, incorpora a exibição de filmes com estreias exclusivas, um simpósio e ainda uma extensa exposição intitulada GRAUKUNST – ARTNROLL.
Com uma forte aposta nos nomes que prometem agitar os próximos tempos, o festival também integra artistas consagrados, todos influenciados pelo cenário da música underground, new wave, da eletrónica à psicadélica e experimental. Na edição deste ano – que será a sétima na história do festival – destaque para nomes maiores como Thurston Moore Group, Test Dept., Stephen Mallinder (Cabaret Voltaire) ou Linea Aspera, sem nunca descurar das atrações do novo cenário como os epiléticos Shortparis, a figura do novo EBM QUAL, Cabaret Nocturne ou Panther Modern – os novos gritos da eletrónica belga e norte-americana, respetivamente. A programação para os dois dias e os horários de atuação das bandas podem consultar-se aqui.
Na programação cultural destaque para o filme Chance vs Casuality – integrado nos simpósios – e que contará com a presença da cineasta Babeth Mondini-van Loo e de Stephen Mallinder (Cabaret Voltaire) que trazem, numa estreia holandesa, uma discussão aberta, relativa à projeção de Chance vs Casuality e a performance a solo de Stephen Mallinder. O momento é histórico uma vez que será a primeira vez em 40 anos que este filme voltará a ser exibido. Distinção ainda para
o documentário
Swans: Where Does a Body End
, dirigido por
Marco Porsia
e que
exibe um retrato pessoal da banda, através de material de arquivo que nunca foi mostrado antes. Após a exibição do documentário haverá a intervenção de nomes como Jehnny Beth (Savages), Thurston Moore (Sonic Youth) e Blixa Bargeld (Einsturzende Neubauten, Nick Cave & The Bad Seeds) nos comentários.
O Grauzone realiza-se em vários locais na cidade The Hague, como Paard, Het Koorenhuis, Het Magazijn, The Gray Space In The Middle e Paardcafé. Os passes gerais têm um custo de 67,50€ e os bilhetes diários podem ser adquiridos por 37,50€, clicando neste link. Todas as informações adicionais relativas a este evento podem ser encontradas aqui.