Reportagem: Jameson Urban Routes, 22 de outubro [Musicbox – Lisboa]
Reportagem: Jameson Urban Routes, 22 de outubro [Musicbox – Lisboa]
Outubro 28, 2015 10:02 pm
|
Reportagem: Jameson Urban Routes, 22 de outubro [Musicbox – Lisboa]
Outubro 28, 2015 10:02 pm
|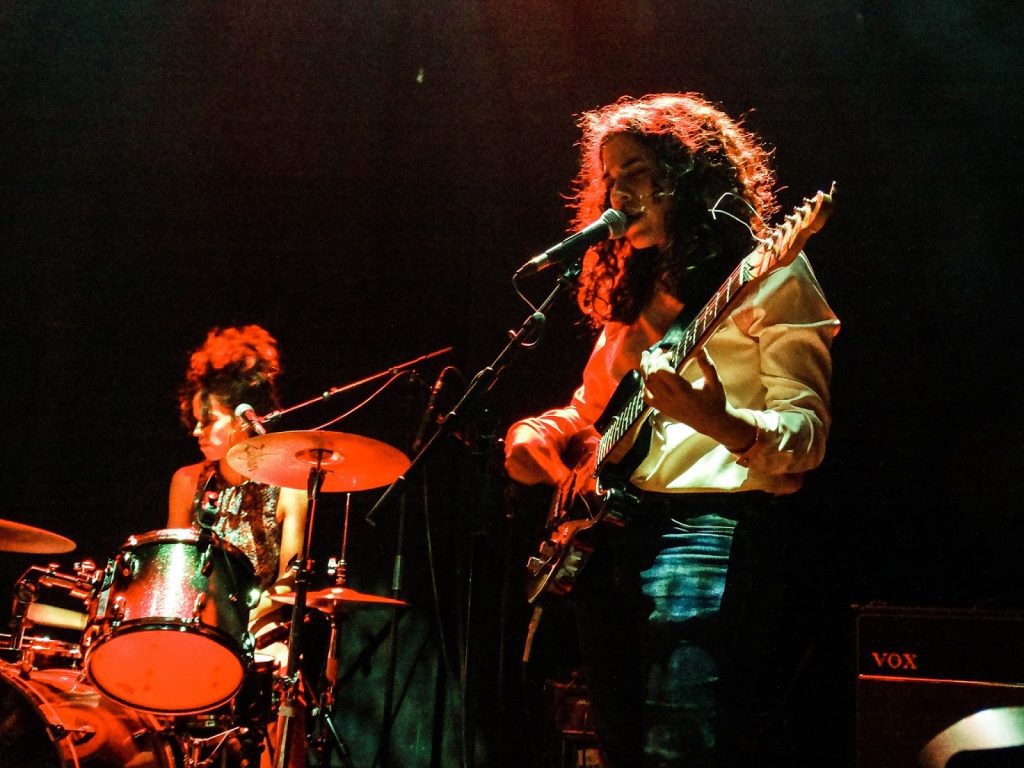 O primeiro dia do Jameson Urban Routes foi gratuito, pelo que já era de esperar que o Musicbox estivesse a abarrotar para verem as actuações de Cave Story, Galgo e Pega Monstro. A reportagem do que se passou nestes primeiros dias segue em baixo.
Os Cave Story entraram em palco às 22h15 e a sala já se encontrava praticamente lotada. O trio das Caldas da Rainha abriu o concerto com a frenética "Buzzard Feed" e foi percorrendo vários temas do seu primeiro EP Spider Tracks, editado no ano passado. O maior destaque foi para "Southern Hype", o primeiro single do EP. O público jovem que se encontrava à frente do palco sabia bem a letra, tendo ainda havido tempo para algum moche. Houve tempo também para uma nova música com uma sonoridade semelhante aos canadianos Ought, mas cujo nome não sabemos.
Os
Cave Story
tocaram 8 músicas ao longo de 40 minutos e mostraram que são uma máquina bem oleada e pronta para actuar em qualquer grande festival português no próximo verão. Esperamos por um novo álbum em 2016!
Os lisboetas Galgo foram a banda que se seguiu. Ainda só com um EP, EP5, editado este ano, o quarteto entrou em palco às 23h05. Donos de uma sonoridade bastante interessante que mistura um post rock dançante com um toque tropical, como se as guitarras dos britânicos Foals na fase Antidotes se tivessem incorporado na sonoridade dos And So I Watch You From Afar. Há espaço para temas como "Trauma de Lagartixa" e "Torre de Babel", mas o single "Dromomania" foi o grande destaque do concerto, mostrando uns Galgo mais experimentais e krautrockianos. A banda deu um óptimo concerto e o público parece ter gostado, tendo até havido tempo para um rapaz se dedicar ao crowd surf.

As irmãs Reis, Júlia na bateria e Maria na guitarra, mais conhecidas por Pega Monstro, trouxeram na mala o seu segundo álbum de originais Alfarroba, editado em Julho pela editora britânica Upset the Rythm. O concerto iniciou-se com os dois primeiros single de Alfarroba, "Branca" e "Braço de Ferro, duas grandes malha de garage rock lo-fi . Com os amplificadores num volume bem alto, a forte barreira do ruído deu lugar à mais calma "Não consegues". Seguiram-se "Partir a Loiça", tema novo que mantém o registo caótico característico, "Amêndoa Amarga", "Voltas para trás" e "Estrada", todas de Alfarroba. Foram 40 minutos agressivos e crus, ao qual o público correspondeu com mosh do início ao fim. Apesar disso, não diríamos que tenha sido o melhor concerto da noite, tendo esse título ficado com os Cave Story. O demasiado ruído impossibilitou-nos de ouvir as vozes, especialmente para o público que se encontrava mais à frente, tendo ficado um pouco àquem da versão de estúdio.
Texto e fotografia: Rui Gameiro