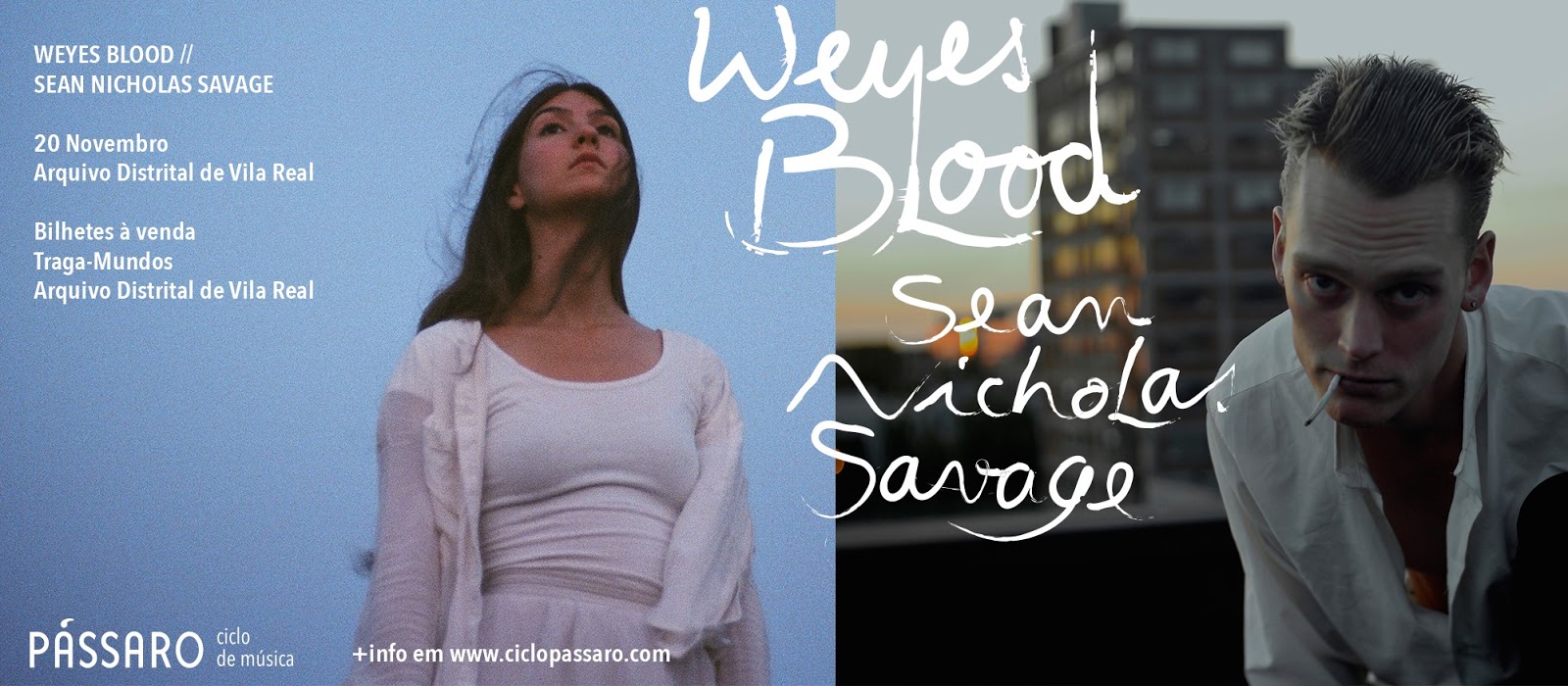 Pássaro – denomina-se desta forma o ciclo de música com que a promotora covilhete na mão arrancou este 2015. Uma iniciativa que procura levar à região transmontana, e particularmente à cidade de Vila Real, artistas de referência nacional e internacional da música contemporânea, apresentados num espetáculo mensal, com lotação reduzida a 100 pessoas e em local singular não habituado a receber espetáculos.
Depois do regresso em outubro com as canções de JP Simões a tomarem conta do Museu da Vila Real, o ciclo de música Pássaro apresenta a 20 novembro, no
Auditório do Arquivo Distrital de Vila Real,
a norte-americana
Weyes Blood
e o canadiano
Sean Nicholas Savage
, dois nomes incontornáveis na atual música contemporânea.
WEYES BLOOD
Integrou o grupo de Portland, Jackie-O Motherfucker, que servia vários géneros musicais numa base noise e experimental antes de se aventurar a solo. Sob o nome Weyes Blood, Natalie Mering editou os discos The Outside Room (2011) e The Innocents (2014). O regresso de Weyes Blood a Portugal tem como mote a apresentação Cardamom Times, o seu novo EP, editado 25 de setembro pela Mexican Summer. Com uma voz de uma pureza rara, Weyes criou um estilo muito próprio, abstrato e enigmático. Num universo sombrio e belo encontramos uma verdade forte nos temas de Weyes. É sem dúvida umas das melhores descobertas musicais dos últimos anos.
SEAN NICHOLAS SAVAGE
O canadiano Sean Nicholas Savage passa por Portugal para apresentar Other Death, disco editado a 18 de setembro através da Arbutus Records.
Sean Nicholas virá em formato banda e dividirá a noite com Weyes Blood.
A sua veia poética, aliada à performance que eleva em palco, origina espetáculos memoráveis que o levaram aos maiores palcos e festivais um pouco por todo o mundo.
Bilhetes à venda na loja Traga Mundos e Arquivo Distrital de Vila Real:
Normal / 7 euros Estudantes / 5 euros. Concerto tem início às 22 horas.