Reportagem: The Underground Youth [Cave 45 – Porto]
Reportagem: The Underground Youth [Cave 45 – Porto]
|
Reportagem: The Underground Youth [Cave 45 – Porto]
|


Na passada quinta feira passamos pelo Cave 45, no Porto, para assistir ao regresso dos The Underground Youth, banda natural de Manchester liderada por Craig e Olya Dyer e que lançou o seu mais recente longa duração Haunted no ano passado.
Depois de um pequeno atraso, enquanto se esperava por uma sala mais ocupada, eis que a banda britânica subiu finalmente ao palco. A sala encontrava-se finalmente composta e o ambiente era de bastante entusiasmo para com o regresso deste grupo que se começa a consolidar como uma das principais bandas do circuito alternativo britânico, caraterísticos pelo seu som que funde diversos géneros musicais que vão desde o psicadelismo dos Brian Jonestown Massacre ao post-punk dos Joy Division e ao noise dos Jesus And Mary Chain, e que conta já com seis discos editados, sendo Haunted o seu mais recente lançamento.
Abrindo as hostes com "Lost Recording", os Underground Youth iniciaram um concerto que iria recordar os vários temas da sua já extensa discografia. Temas como "Hope & Pray" e "In The Dark I See" foram muito bem recebidos, com direito a muitos aplausos por parte do público que revelava ser conhecedor de alguns trabalhos da banda. Com um disco ainda fresco na bagagem, os britânicos aproveitaram também para tocar algumas faixas do seu mais recente disco como "Collapsing Into the Night", que demonstram um lado mais negro e influenciado pela música post-punk.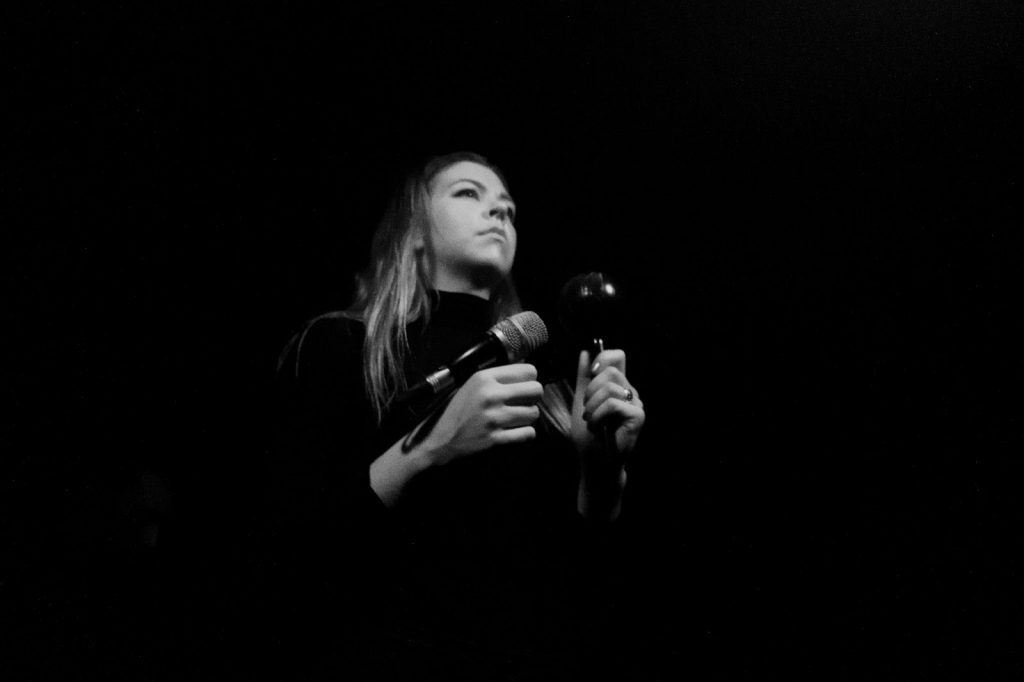 A banda apresentou-se bastante confiante e à vontade, com Craig Dyer a demonstrar-se como um frontman cheio de presença e atitude, descendo do palco para atuar mais próximo dos seus fãs. O momento alto do concerto foi, provavelmente, para uma versão de "Ghost Rider", clássico dos enormes Suicide, encerrando o concerto antes do encore final, que contou com mais uma faixa apenas, dando término a mais uma excelente atuação da banda britânica por terras lusas.
Resta, então, agradecer à Muzik Is My Oyster por continuar a apostar em nomes interessantes da música alternativa e por nos proporcionar concertos excelentes como este.