Reportagem: Tomorrows Tulips + The Sunflowers [Café au Lait – Porto]
Reportagem: Tomorrows Tulips + The Sunflowers [Café au Lait – Porto]
|
Reportagem: Tomorrows Tulips + The Sunflowers [Café au Lait – Porto]
|
Na passada quarta-feira, dia 25 de maio, fomos – literalmente: fomos oito elementos da redação – marcar presença nos concertos dos Tomorrows Tulips e The Sunflowers que decorreram na cave do Café Au Lait, pelas mãos da promotora vimaranense Revolve.
Como é típico, no Café au Lait, os concertos não começaram a horas, mas a espera cá fora não foi em vão, afinal, falar com os membros de ambas as bandas, antes do concerto, estava a uns passos de distância em frente à porta de entrada do café. Claro que fomos todos meter uns dedos de conversa com os The Sunflowers, que toda a gente sabe que apesar da personalidade punk na música, são um duo bastante simpático, atencioso e, nunca esquecer, muito criativo na divulgação do trabalho com os fãs (chegaram a ver aquela embalagem maravilha do novo single, na banca da merch?).
Com o relógio a marcar as dez e meia da noite, os The Sunflowers começaram a preparar palco para aquele que viria a ser o melhor concerto da noite do Café au Lait. Começou tarde mas isso não impediu à festa.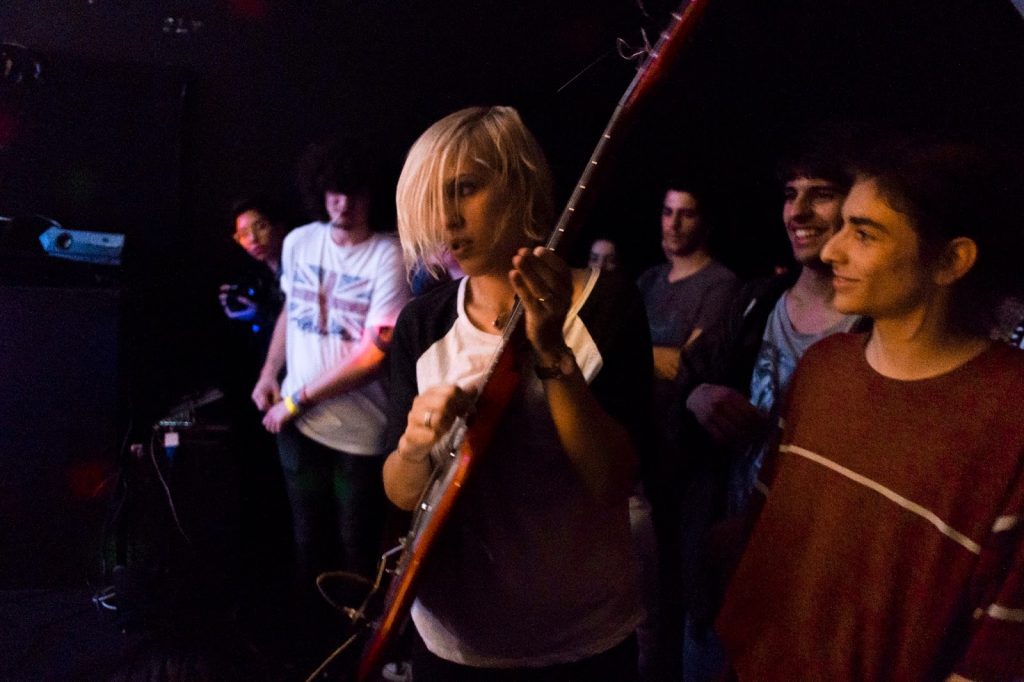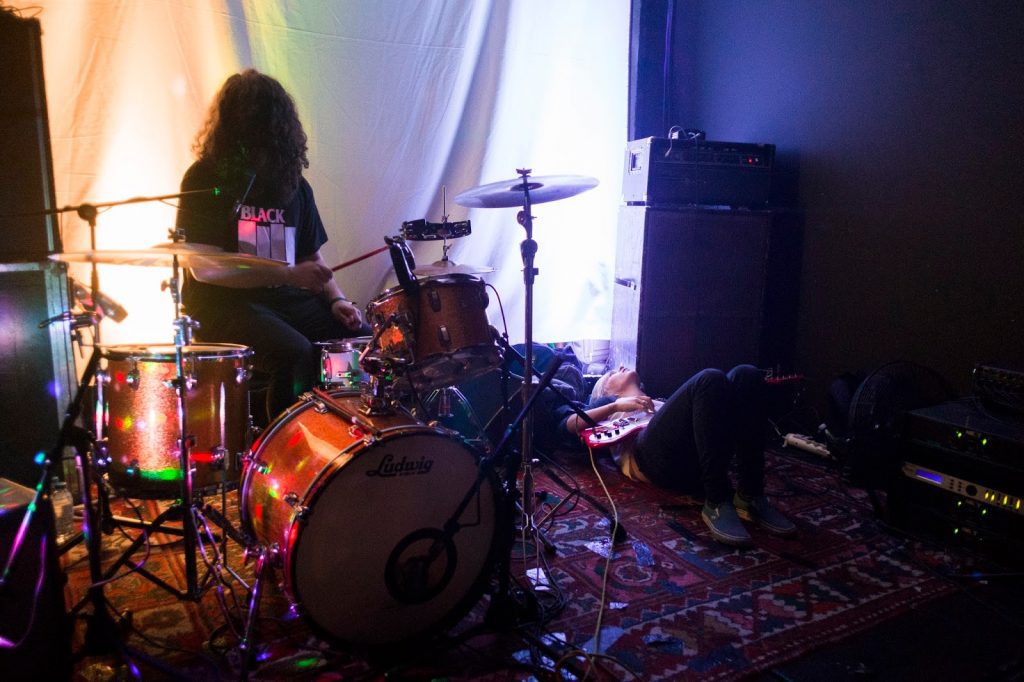 Embora festa de uns e infortúnio de outros, (desculpem lá, mas o moche a mim não me assiste) o concerto veio recheado dos grandes hits – "I'm a Woman, I'm a Man", "Charlie Don't Surf" – e de novas músicas que farão parte do álbum de estreia, nomeadamente a nova "Hasta La Pizza/Rest in Pepperoni" e "Post Breakup Stoner". Já em modo encerramento, o concerto veria o fim com a já épica cover da "I Wanna Be Your Dog" dos The Stooges.
Os Tomorrows Tulips apresentaram-se num pano de fundo apagado e exclusivamente acompanhado da projeção de Dominic Santos. Sem qualquer interação com o público, a banda, que abarca agora nova baterista, abre o concerto com "Surplus Store", retirada do álbum When(2014), fazendo uma ponte até "Casual Hopelessness" do inspirador Eternally Teenage(2011). Com uma mini pausa para beber um trago de cerveja, Alex Knost e companhia mantiveram-se calados para uma sala que esperava um concerto um pouco mais acolhedor e intimista.
Apesar de todas as canções terem soado muito diferentes da sua reprodução original em estúdio, uma das músicas que teve mais destaque foi a curtíssima "Baby", que acabou por ser tocada duas vezes. Uma bateria mais explosiva e aquela última esperança do "é agora que vão dizer oi", acabaram por desvanecer com o finalizar do concerto. Por entre os maiores êxitos, os Tomorrows Tulips não se esqueceram de "Flowers On The Wall", "Glued To You", "When", "Check Me Out" e claro, a poética e inspiradora "Free".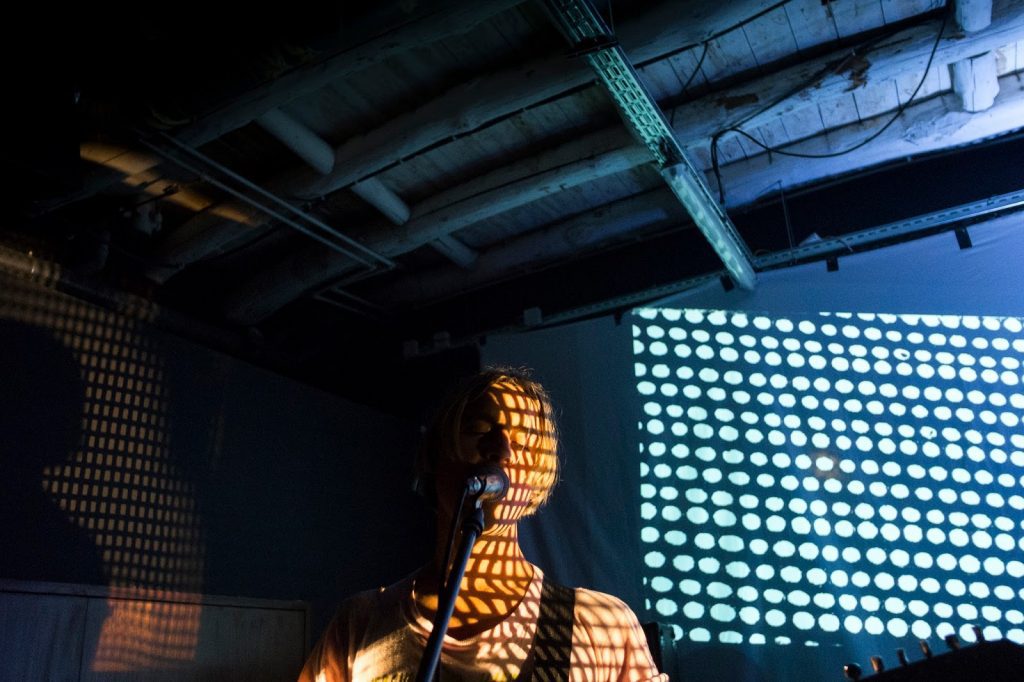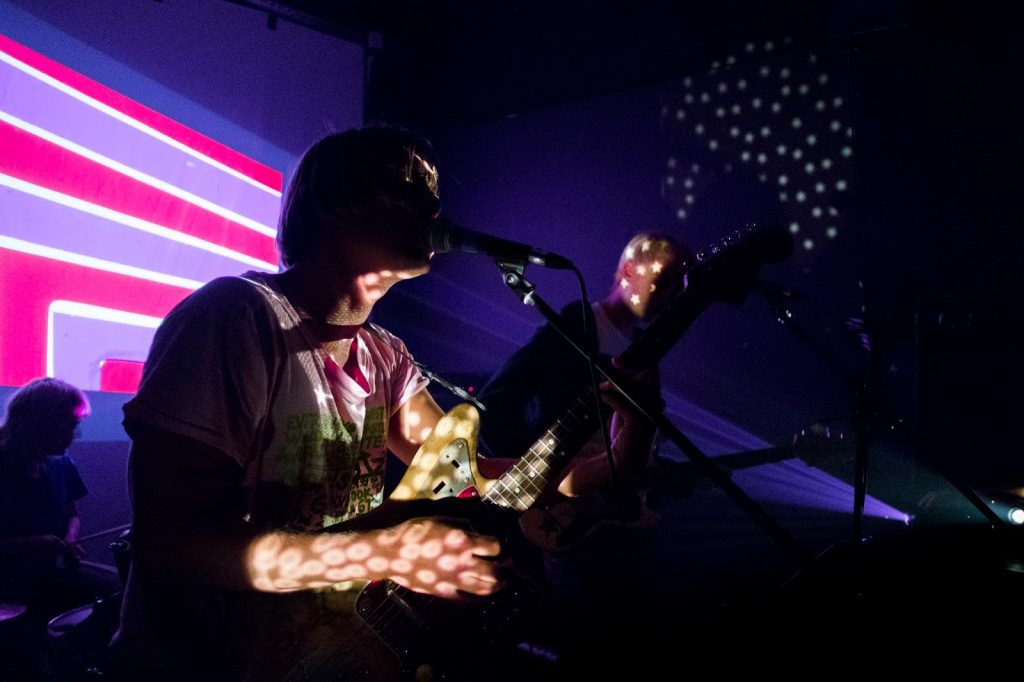 Ao contrário do que aconteceu há cerca de três anos atrás, no CAAA em Guimarães, a "Misses Hash" ficou de fora da setlist e o concerto apresentou, no seu volver, uma qualidade bastante inferior. A fechar com "Favourite Episode", e alguns problemas técnicos pelo meio, os Tomorrows Tulips apresentaram no Porto uma performance que ficou muito à quem do previsto. Uma pena.