O fim-de-semana tinha chegado e o Jameson Urban Routes iria ficar connosco até domingo. Mas só para aqueles que compraram bilhetes a tempo e horas pois a sessão esgotou uns minutos antes. A primeira banda da noite foram os Sensible Soccers, trio de Vila do Conde composto por Manuel Justo, Filipe Azevedo e Hugo Gomes, a quem se juntou André Simão, responsável pelos ritmos do baixo e da drum machine.
A banda entrou em palco por volta das 21h30 e, sem demoras, deram início ao concerto com "Clausura", música calma e introspectiva, carregada de sintetizadores hipnóticos. Depois de um momento mais relaxado, surgiu o tema título do novo disco editado em março, Villa Soledade. A sala estava cheia e os corpos já balançavam. Em palco estava uma das bandas nacionais mais querida pelo público. "Bolissol" soltou-o ainda mais, com as pernas e as ancas a quererem ganhar vida própria. Visitámos terrenos mais africanos e gingões com "Nunca Mais Me Esquece".
Ok, já estávamos bem oleados e prontos para não parar. Eis que surge a épica "AFG", do igualmente épico
8
, álbum editado em 2014. O ritmo já estava tão elevado que só se podia seguir a frenética "Shampom", coroando esta atuação como gloriosa. Estes rapazes esgotam a ZDB, esgotam o Musicbox. São um caso de amor para o público nacional. Infelizmente não houve encore, mas ocasiões não faltarão para os vermos por aí.
Depois de já estarmos bem quentinhos, eis que surgem os The Comet is Coming. Formados em Londres em 2013, descrevem-se como uma banda de Apocalyptic Space Funk. São Danalogue The Conqueror (sintetizadores), Betamax Killer (bateria) e King Shabaka (Sons Of Kemet, Melt Yourself Down) (Saxofone). Trouxeram consigo na bagagem Channel the Spirits, disco editado em 2016 que esteve nomeado para o Mercury Music Prize, no meio nomes como os conceituados David Bowie e Radiohead. Este trio funde o nu jazz, afrobeat, eletronica, space rock e neo-psicadelismo num improviso intergaláctico.
Fortemente influenciados por Sun Ra (não fosse Shabaka membro ocasional dos Arkestra – ensemble de Sun Ra que ainda resiste 20 anos após a sua morte) são exploratórios e futuristas, levando o jazz até às pistas de dança.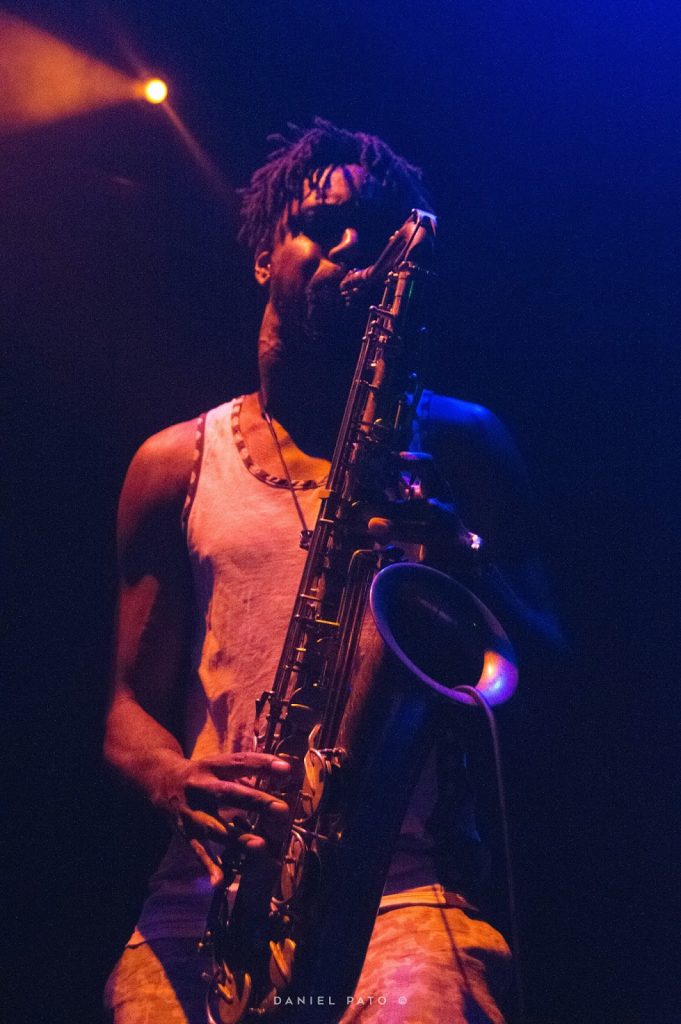 Já passavam das 23h quando levantámos voo em direção ao espaço sideral e ao infinito. Uma espécie de Ladies and Gentlemen, We Are Floating In Space. Em palco estava King Shabaka, descalço, com o seu saxofone frenético, mas melódico, com direito a solos constantes; Danalogue, muitas vezes de braços no ar e meio tresloucado, responsável pela eletrónica exuberante e pela segunda linha de percussão bem distorcida. Betamax completava este trio com a excelente capacidade de percussão jazzística. Estavam reunidas todas as condições para fazermos uma viagem segura até à Terra. Preparem-se para o Impacto.
"Space Carnival" , "Neon Baby" e "Do The Milky Way" foram os temas mais que mais destacaram ao longo desta intensa hora de concerto que ainda teve direito a encore. Houve um momento caricato em que tanto Shabaka como Danalogue se puseram a dançar em torno da bateria, como se estivessem a evocar espíritos. Todos os que estavam presentes na sala dançaram como se o fim do mundo estivesse ali ao virar da esquina. Há quem até tenha tido que mais parecia que estávamos numa rave underground dos anos 90 no Reino Unido. Ou seja, Techno Jazz!
Conclusão: foi só o melhor concerto do Jameson Urban Routes!