Reportagem: Christian Death [Hard Club, Porto]
Reportagem: Christian Death [Hard Club, Porto]
|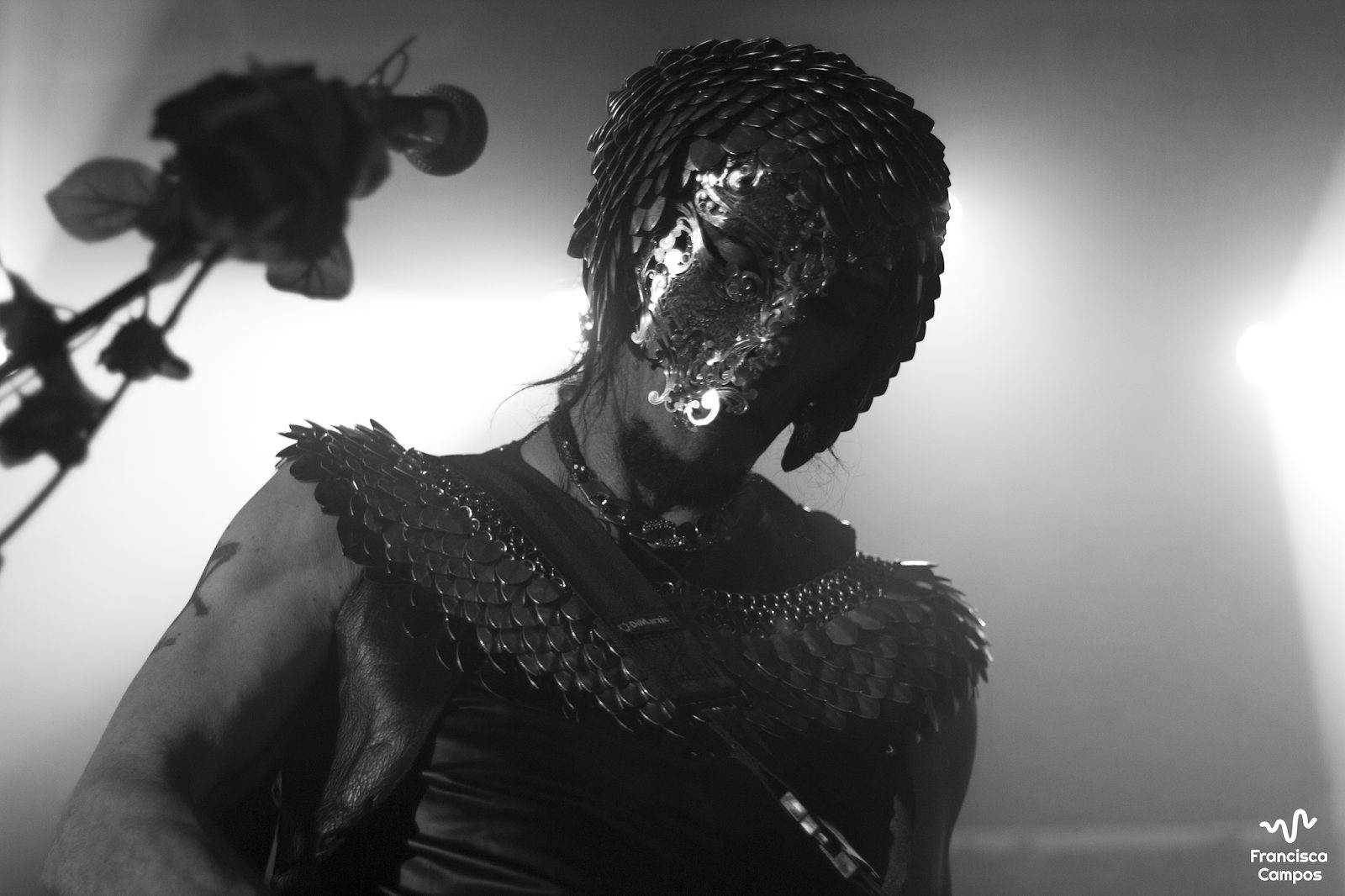 Reportagem: Christian Death [Hard Club, Porto]
|
No ano que marca o 20º aniversário da morte do icónico vocalista dos Christian Death – Rozz Williams – a banda de death-rock, desde 1985 liderada pelo guitarrista e vocalista Valor Kand, regressou a Portugal para um concerto único no país – inserido na tour europeia Romantic Death – que decorreu na passada sexta-feira, dia 27 de abril no Hard Club, Porto com o selo da promotora At The Rollercoaster, para uma sala mais ou menos composta. Na bagagem a banda trazia o seu mais recente disco de estúdio The Root of All Evilution, editado em 2015.
Embora já não possuam nenhum dos membros fundadores, os Christian Death subiram a palco em versão trio com o já conhecido guitarrista Valor Kand – que foi o primeiro a pisar o palco para iniciar concerto com alguns acordes em guitarra -, a baixista e vocalista Maitri e o baterista Jason Frantz, que subiram a palco pouco depois de Kand. Do público via-se um palco com dois ecrãs, uma bateria central de porte grande, imensas flores vermelhas e uma espécie de poltrona com a fotografia de Rozz Williams onde se podia ler R.I.P.. Marcado para as 22h00 e a arrancar por volta das 22h19 com voz off, o concerto dos Christian Death abriu com "The Nascent Virion", tema retirado do disco Amen (1995), que permitiu ao público começar a dar os primeiros passos de dança.
Como já era esperado o grande destaque da noite foi para a baixista Maitri que se fez acompanhar de vestimentas bastante ousadas – apresentava-se de chapéu, sem calções, meias de rede e uma camisola de decote violento – , além de Valor Kand, acompanhado do seu chapéu (aliás quase no fim do concerto o próprio admitiu que era um homem de muitos chapéus) e da habitual máscara que lhe tapava metade da cara. Antes da performance de "We Have Become", Valor Kand tirou o casaco preparando o público para um espetáculo que seria baseado essencialmente na exploração de quebras de ritmos e alguma reverberação. Aliás, durante os primeiros segundos deste single foi notória essa reverberação, em excesso, o que se tornou desconfortável com o avançar do tempo. A sorte é que Maitri reparou no descuido antes de ter uma plateia a cair para o lado.
Do concerto, destaque ainda para temas como "Seduction Thy Destruction" e "Out of Control" que, antes de ser ouvida, fez Valor Kand virar-se para o público e pedir para que este perdesse o controlo. Durante a sua prestação ouviram-se ainda alarmes, gritos do público e um single que resultou bastante bem ao vivo em relação à versão estúdio. Além destes temas, de mencionar ainda "Illuminazi" que teve direito a uma projeção do videoclip oficial perfeitamente coordenada com a performance ao vivo.
Depois de tocarem "Sick of Love", Kand disse adeus ao público e Maitri ficou do género, ah ok, "bye", numa espécie de performance teatral para que se tocasse o único e inaugural tema dos Christian Death da altura de Rozz Williams, o clássico "Romeo's Distress", em memória ao próprio. Aqui, contrariamente ao previsto, quem tomou posse do microfone foi Maitri e, numa opinião completamente pessoal, confesso que arruinou completamente o tema original, o que me fez olhar para este concerto como algo que não marcará as minhas memórias futuras. A fechar com "This Is Heresy", o concerto dos Christian Death teve fim por volta das 23h22.
Texto: Sónia Felizardo
Fotografia: Francisca Campos