Reportagem: The KVB [Hard Club, Porto]
Reportagem: The KVB [Hard Club, Porto]
|
Reportagem: The KVB [Hard Club, Porto]
|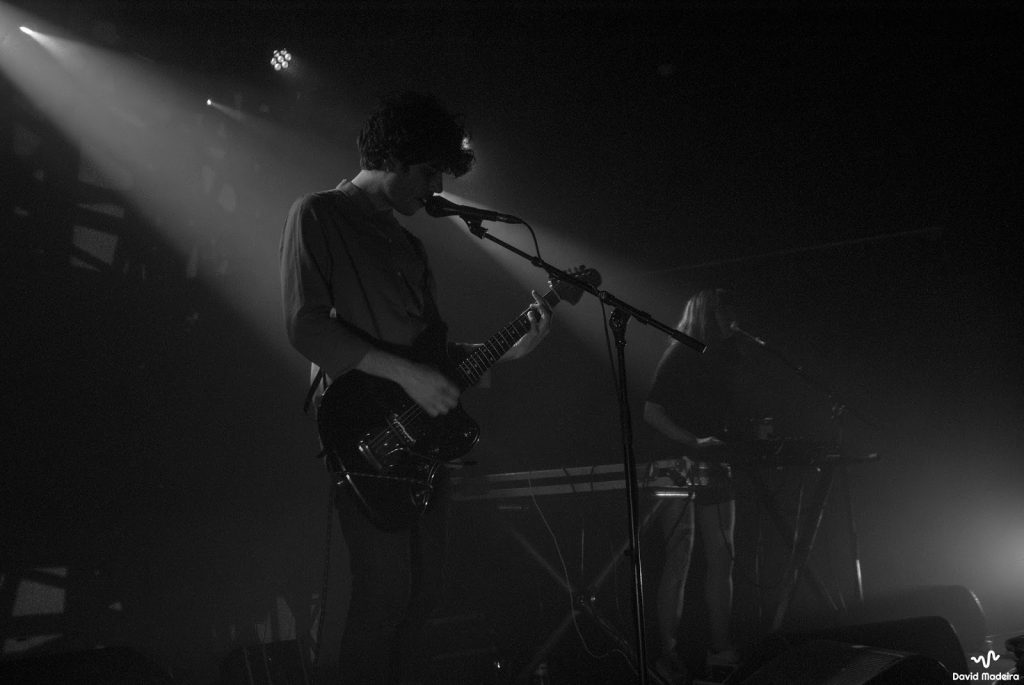 Na noite de 5 de maio os The KVB deram o último dos dois concertos que tinham agendados em território nacional numa noite primaveril que foi uma surpresa para quem os via ali pela primeira vez. A dupla formada por Nicholas Wood e Kat Day tornou-se conhecida pela reinvenção do uso dos sintetizadores na elaboração de uma sonoridade a incorporar elementos do post-punk, minimal-wave e shoegaze contemporâneos que os destacou dentro do novo panorama musical, tendo-os levado a atuar em alguns festivais de renome a nível internacional. Ao concerto do Porto traziam na bagagem o seu mais recente LP de estúdio Of Desire, editado em 2016.
Agendado para as 22h00 no Hard Club, Porto e sem banda de abertura, o concerto dos The KVB teve arranque pelas 22h25 com Nicholas Wood a fazer ouvir-se o primeiro acorde da guitarra para que Kat Day inaugurasse os sintetizadores de "White Walls", tema de abertura do concerto e do disco Of Desire, que permitiu aos mais desinibidos começarem a dar os primeiros passos de dança numa noite de celebração na cidade do Porto. Depois da performance do poderoso kraut-ish "Night Games", Nicholas virou-se para o público para pronunciar as primeiras palavras da noite "Thank You. Good Evening" – disse – e coloca "Lowder Depths" em posto de escuta, seguindo-lhe o também muito aplaudido "Allways Then".
The KVB foi uma grande surpresa porque curiosamente soam melhor ao vivo que em estúdio, mais poderosos, charmosos e hipnotizantes, com esquemas de luzes muito bem programados e uma performance que foi claramente tornando-se melhor e melhor com o passar dos minutos. "
This next song is a brand new song for our upcoming album", diz Wood e, juntamente com a sua cara metade, fazem ouvir-se "Afterglow", numa sonoridade bem mais eletrónica que a habitual linha de trabalho que mostraram com as edições anteriores. E o público, de bom grado, recebeu-a. Com "Here It Comes" a proporcionar uma aura super fofinha e totalmente 80's ao público, também se começavam a ver cada vez mais pessoas a aderir e a dançar impenetravelmente. Era hora de se ouvir um dos tema mais icónicos da banda, "Never Enough", para um concerto muito agradável que a pouco e pouco se ia aproximando do fim.
Depois de "From Afar" – retirado do disco Out Of Body (2014) -, foi a primeira vez que Kat Day se dirigiu diretamente ao público dizendo "Thank you so much for coming (…) the last time we were here was 2015? (…) We have two more songs left, the next song is called "Hands" ", música também bastante conhecida entre a discografia da dupla e retirada do aclamado disco de estreia Always Then (2012). Para encerrar concerto a dupla escolheu (e muito bem) o enorme "Dayzed", do disco Immaterial Visions (2013), que fez do Hard Club uma pista de dança absoluta.
A saírem de palco com os sintetizadores a soarem bem forte, Kat Day e Nicholas Wood fizeram o público aplaudir por mais músicas, regressando a palco para um encore que contou com dois temas – "Again & Again" e "Sympathy For The Devil", num concerto que teve aproximadamente uma hora de duração. Ainda antes de tocarem a última música concerto houve um momento engraçado que vale a pena recordar: Nicholas Wood disse "thank you very much, this is the last song left (…) and congratulations to Porto (…) now, this is the last song, it's called "Sympathy For The Devil"". Ao que alguém do público responde "it's called Porto" e Nicholas Wood prossegue "We will play that one after". Não tocaram e às 23h31 estava assim encerrado mais um grande concerto com a assinatura da prolífera At The Rollercoaster.
Texto: Sónia Felizardo
Fotografia: David Madeira