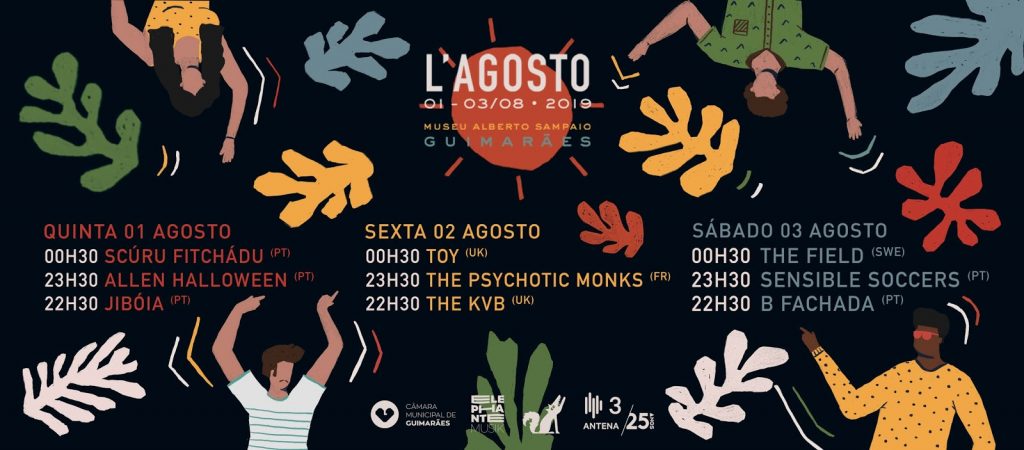 L'Agosto, o festival de verão de Guimarães arranca amanhã (quinta-feira) no Museu Alberto Sampaio, com a entrada do mês de agosto ao ativo, e prolonga-se até sábado, dia 3 de agosto com três noites inseridas num cartaz que contempla não só os grandes nomes da música nacional, mas também nomes de renome internacional. No total, são nove os concertos, divididos pelos três primeiros dias do mês de agosto, que prometem agitar a cidade onde nasceu Portugal.
Nos principais destaques da edição de 2019 encontra-se a atuação dos britânicos TOY que regressam ao país na apresentação do mais recente disco de estúdio Happy in the Hollow (2019); o concerto dos também ingleses The KVB que têm conquistado os corações dos portugueses, e que a Guimarães farão ecoar Only Now Forever (2018) bem alto; a performance de The Field, músico e produtor sueco, e um dos nomes mais aclamados pela crítica e público dentro do espectro da música eletrónica alternativa e, ainda, a estreia em Portugal dos The Psychotic Monks, conjunto de rock pujante, a fazer lembrar o pós-grunge com toda a essência do punk.
A nível nacional os nomes foram bem escolhidos e destacam-se as performances de Allen Halloween, Scúru Fitchádu e Jibóia – a apresentar sonoridades frescas da world music e do hip-hip cru –, que acontecem no primeiro dia de festival e ainda Sensible Soccers – a apresentar Aurora (2019) – e B Fachada que dão início às festividades do último dia de festival.
Os bilhetes diários podem der adquiridos na bilheteira online e têm um custo de 15€. O passe geral do evento custa apenas 25€. Podem comprar aqui.