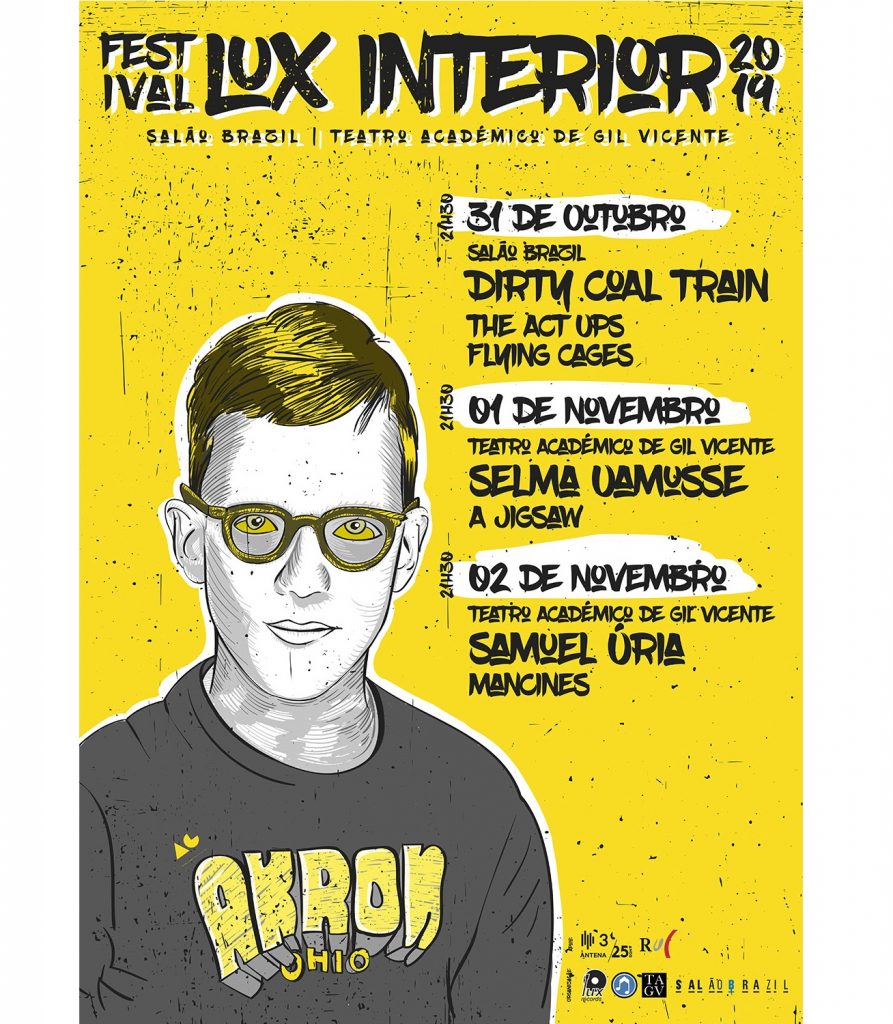 O Festival Lux Interior é um projecto da editora Lux Records que pretende promover os artistas do seu catálogo, e imortalizar, ao mesmo tempo, uma das figuras mais emblemáticas e inspiradoras das bandas de rock conimbricenses – Lux Interior, líder dos Cramps.
Nos próximos dias 31 de Outubro, 1 e 2 de Novembro, realiza-se em Coimbra a terceira edição do Festival Lux Interior, com concertos no Salão Brazil e no Teatro Académico Gil Vicente. Esta edição não será só uma compilação da actividade da editora ao longo de mais de duas décadas, mas também e principalmente, um abrir de novos horizontes para a produção musical da cidade de Coimbra. Os grandes destaques vão para as atuações de Dirty Coal Train, Selma Uamusse e Samuel Úria.
A Lux Records foi fundada em 1996, e desde então tem dado a conhecer muita da melhor música com origem na cidade de Coimbra: Belle Chase Hotel, Tédio Boys, Legendary Tigerman, Sean Riley & The Slowriders, D3O, Wraygunn, Bunnyranch, Tiguana Bibles, Ruby Ann & The Boppin' Boozers, É Mas Foi-se, Ghost Hunt, António Olaio & João Taborda, Azembla's Quartet, Victor Torpedo, Tracy Vandal, Bodhi, The Walks, Millions, Raquel Ralha & Pedro Renato, Wipeout Beat, Birds Are Indie, Mancines, A Jigsaw, Twist Connection, Spicy Noodles, Tricycles e Flying Cages.
Mas nem só de Coimbra vive a história da Lux Records: Mão Morta de Braga, X-Wife do Porto, Unplayable Sofa Guitar e Madame Godard de Viana do Castelo, Born A Lion da Marinha Grande, Houdini Blues de Évora, e até os Swell de São Francisco (E.U.A.) e Dean Wareham dos nova-iorquinos Luna (E.U.A.) têm a sua história marcada pelo selo da Lux Records.


Para os interessados em ir a todos os dias do festival há um bilhete especial à venda, em exclusivo, na Lucky Lux, loja de discos em Coimbra, pelo preço de 35€ + vale de 5€ de desconto em edições da Lux Records.
Os bilhetes para o concerto de
Flying Cages + The Act-Ups + The Dirty Coal Train (
31 de Outubro, no Salao Brazil) têm o custo de 12€. Os concertos de a Jigsaw + Selma Uamusse (1 de Novembro, no TAGV) e Mancines + Samuel Úria (2 de Novembro, no TAGV) têm ambos o custo de 18€.