Depois de um álbum duplo cheio de convidados (Portuguese Freakshow), e um álbum em trio gravado "ao vivo em estúdio" no Brasil (Primitive), os The Dirty Coal Train voltam a baralhar e a dar cartas novamente. Desta vez, assinam o disco novo como Dirty Coltrane, tal como faziam no início da banda, voltam a esta assinatura no ano em que celebram 10 anos de projecto. Depois parece que reduziram os convidados nas gravações para centrar grande parte da instrumentação no duo Ricardo Ramos e Beatriz Rodrigues.
O disco abre com um "I'm a one-trick-pony with a broken leg", como quem avisa e assume que o núcleo duro dos temas é o habitual garage com a energia e fórmula do punk. Mas ao invés de serem "antiquados", a banda tem no disco lugar para coisas "fora da caixa" como também é costume. São exemplo disso as escolhas de covers no Volume I: um tema freefazz de Ornette Coleman e uma versão para um tema dos DeCanja, a primeira banda onde Ricardo e Beatriz tocaram juntos, no qual convidaram a vocalista original da banda Miss Volatile para cantar e Pete Beat dos Act Ups para a bateria. Mas não se enganem, este Volume I é punk e "rock sem merdas" típico do duo. Mesmo a versão de Ornette Coleman deve tanto ao saxofonista e a Sun Ra como aos Stooges e aos MC5.
Capa do Volume I
Já o Volume II parece funcionar como o "Lado B" da moeda. Não o típico lado das sobras mas sim um local onde o duo pensou "Ok, aqui temos carta branca para expandirmos ainda mais o que nos der na telha". O tema de abertura "Millennial Kid" é um garage punk de nove minutos sobre fake news e manipulação de opinião pública. O tema "Indian heart" é um poema da escola Captain Beefheart lido em cima de uma manta de sons à-la Morton Subotnick. Ninguém reconheceria os Dirty por este som mas, no entanto, para quem tem seguido o trabalho do duo também não é uma experiência de todo estranha. Engraçado que talvez as sonoridades mais atípicas deles sejam nas novas versões para dois temas da primeira demo tape (gravada a solo por Ricardo), em ambas acompanhados pelo violino de Maria Côrte: "Waltz" e "The Neurotic Bartender".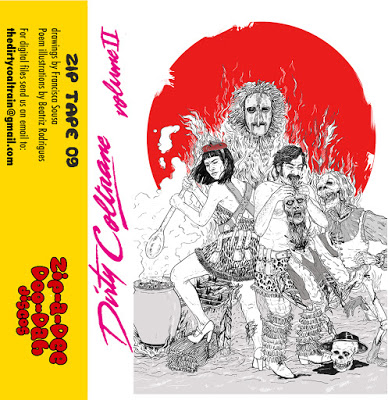 Capa do Volume II
Dirty Coltrane Volume I e II vai ser editado por uma edição em LP de vinil + CD ou uma edição limitada em LP de Vinil + cassete. O primeiro single de avanço a este álbum, "One Trick Pony", está disponível para audição em baixo.