Reportagem: Minta & The Brook Trout em Setúbal
Reportagem: Minta & The Brook Trout em Setúbal
Novembro 20, 2016 7:35 pm
|
Reportagem: Minta & The Brook Trout em Setúbal
Novembro 20, 2016 7:35 pm
|
Era mais uma daquelas sextas-feiras em que acabamos cansados de uma semana exaustiva e que só nos apetece ficar em casa a ver a chuva cair ou a ver aqueles filmes melosos que passam no Hollywood, mas esta acabou por ser diferente.
Pouco passavam das 22 horas quando chegámos a um dos cinemas mais antigos da cidade de Setúbal, o Cinema Charlot, para assistir à banda de Francisca Cortesão, mais conhecida por Minta, e claro, pelos seus "acompanhantes de luxo", a banda Brook Trout constituída por Margarida Campelo no teclado, o já conhecido Bruno Pernadas na guitarra, o também já conhecido de You Can't Win Charlie Brown, Tomás Sousa e ainda no baixo, percussão e voz, Mariana Ricardo.
Esperava-se algo único, logo a começar pela sala de espectáculos escolhida, que poderá ser usada mais vezes, graças à excelente acústica, tornando o concerto marcante.
A banda começou a tocar e logo aí se faz sentir uma sensação, ou talvez, um primeiro flashback: somos novamente crianças e brincamos no campo ou mesmo na praia com os nossos pais ou avós. A musicalidade da banda é capaz de nos levar à nossa infância através da sua sonoridade que explora desde os
blues
dos anos 50 ao psicadelismo dos
late
60's, lembrando muitas vezes as malhas do grande
Bill Callahan
ou
Bonnie Prince Billy
.
As vozes estiveram sempre alinhadas e a guitarra do virtuoso Bruno Pernadas dava o mote para a noite, onde se viam muitas pessoas a apreciar o concerto "interiormente", de olhos fechados, abanando a cabeça.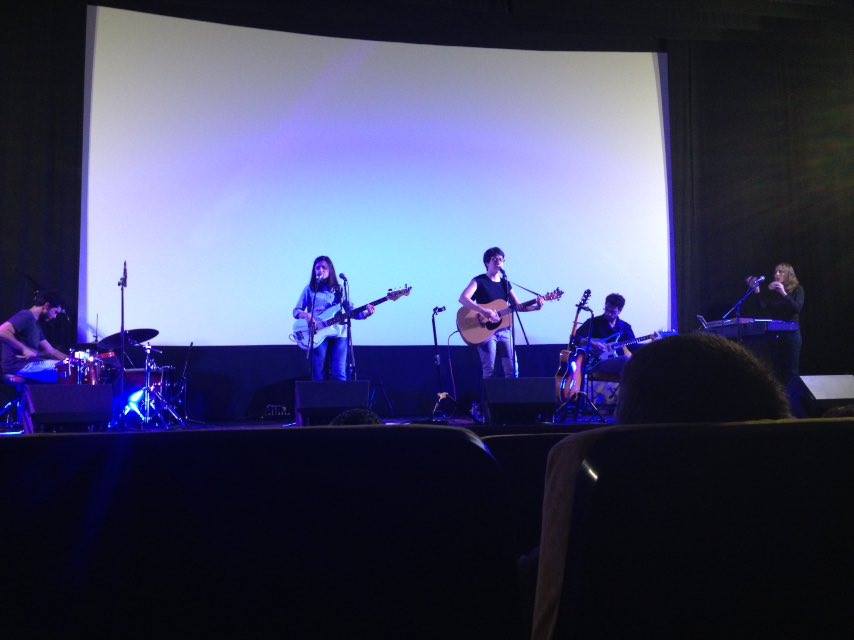 Tocaram-se músicas do álbum mais recente Slow, como "Plaid and Denim", "Bangles", que muitos, já conhecedores, trauteavam acompanhando a batida da bateria de Tomás Sousa, que dava sempre o compasso no começo de cada malha, ou mesmo quando Minta cantava.
Letras sentidas sobre amor, sobre separação ou namoros não tão bem sucedidos foram os temas que trouxeram Minta & Brook Trout a Setúbal, pela primeira vez. Sim, pela primeira vez, apesar dos dez anos de existência este conjunto teve uma única aparição em terras sadinas o que torna o concerto único.
Tivemos também tempo para músicas de Olympia, o álbum antecedente de Slow, de onde ouvimos "Blood and Bones".
O concerto aproximava-se do fim e ouviam-se as últimas músicas:
"Old Habits"
,
"I Can't Handle The Summer",
entre outras, faziam com o que foi dito anteriormente se viesse a confirmar. Podíamos muito bem estar num "baile de garagem" como já descreveram a musicalidade da banda.
Com o concerto acabado, as palmas não queriam cessar, querendo isto dizer algo: encore
A banda sobe e toca, com "elenco" reduzido uma música que fica com uma frase especial a reter: "Take it slow, learn to let it go".
Foi um excelente concerto promovido pela Experimentáculo, que dá vida às noites paradas de Setúbal, num excelente espaço que, quiçá, poderá vir a ser espaço de muitos outros concertos de muitas outras boas bandas e cantores.
Por decisão pessoal, o autor do texto não escreve de acordo com o último Acordo Ortográfico
Texto: Duarte Fortuna
Fotografia: Sofia Lopes