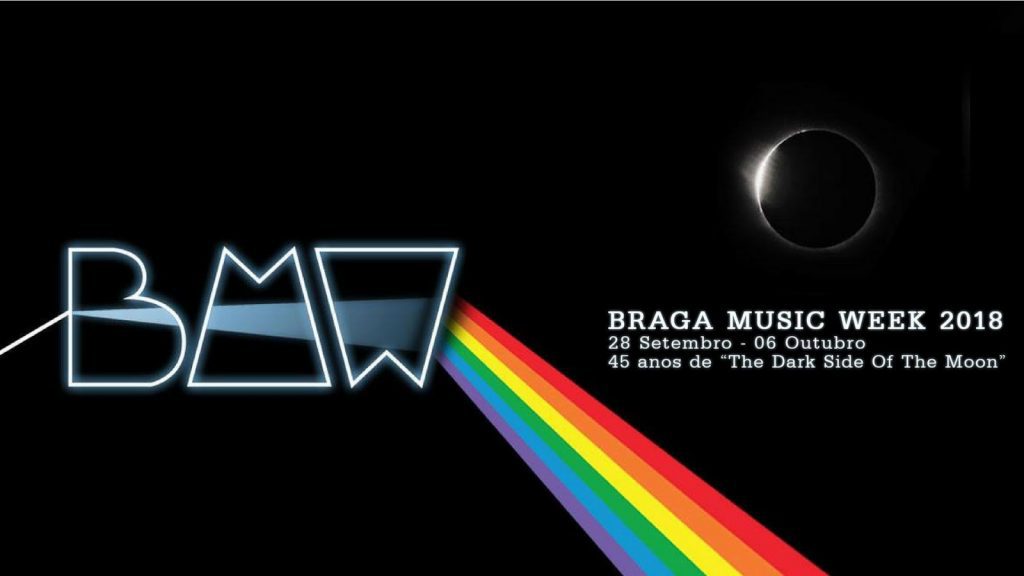 Estamos em contagem decrescente para a sexta edição da Braga Music Week. No ano passado a Semana da Música de Braga abriu a porta aos Mão Morta, com uma edição dedicada ao 25º aniversário do álbum Mutantes S.21. Em 2018 vai levar-nos numa nova viagem, cujo tema é a celebração dos 45 anos do álbum The Dark Side of the Moon dos incontornáveis Pink Floyd.
De 28 de setembro a 6 de outubro, este evento irá dinamizar a cidade, oferecendo espetáculos em vários espaços culturais
– Theatro Circo, gnration, Sé La Vie, Mavy, entre outros –
e em lugares não convencionais, apresentando novos talentos e promovendo colaborações artísticas entre agentes locais, sempre com o apoio da Câmara Municipal de Braga. Haverá concertos, um Music Market, noites de cinema e jogos dedicadas à música, uma competição de futebol que junta bandas, produtras, editoras e festivais e o NAAMOBILE, palco móvel que invade o centro histórico da cidade.
Este ano o festival aposta no seu cartaz mais internacional até à data, que nos leva desde o Brasil, com Far From Alaska ou Medulla, até ao Japão, com Acid Mothers Temple (programação oficial do gnration), passando pela Escandinávia, com Inner da Finlândia e Tilde Hjelm da Suécia. Destaca-se ainda a colaboração dos Killimanjaro e Stone Dead numa noite dedicada às grandes canções dos últimos 40 anos do punk. Os fãs deste movimento podem contar também com um concerto dos The Parkinsons. Também confirmados estão nomes como Gonçalo, Scúru Fitchádu, David Bruno e Palas.
Verifiquem a ignição, apertem os cintos e preparem-se para a Braga Music Week.