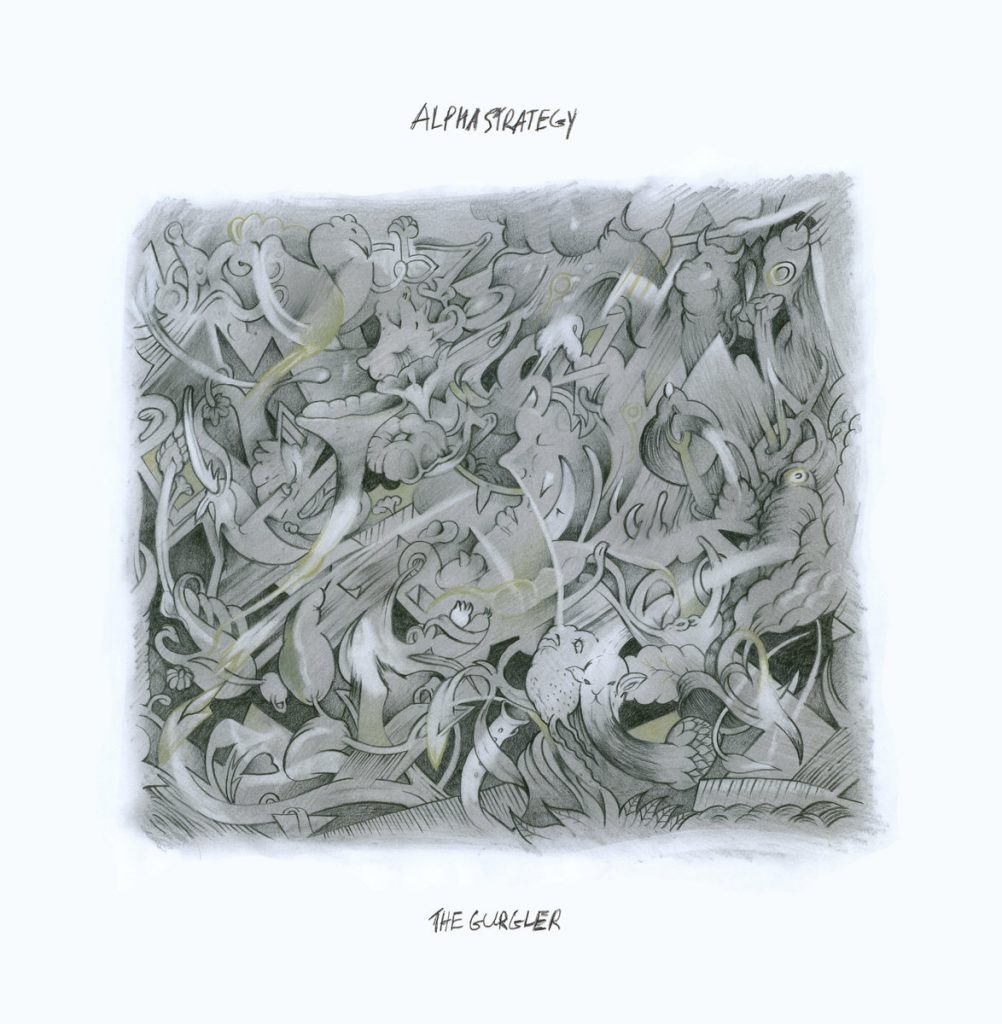 The Gurgler // Antena Krzyku // agosto de 2018
8.0/10
The Gurgler é o mais recente disco de estúdio dos canadianos Alpha Strategy, uma daquelas bandas que vocês têm de apontar aí no bloco de notas se são fãs de música desafiante dentro dos panoramas do rock experimental, art-rock e noise. Este novo disco, lançado no último dia de agosto pela Antena Krzyku, vem dar sucessão a Drink the Brine, Get Scarce (2016) e, além de desafiador – pelas suas quebras, transformações de ritmo e lírica – The Gurgler mostra-se ainda como um álbum provocativo, com músicas que nos conquistam ao mesmo tempo que desamparam.
Além do art-rock que é definitivamente uma das grandes bases deste The Gurgler, os Alpha Strategy vão ainda beber influências ao post-punk, como é notório em malhas como "The Gargler", tema feito de guitarras rasgadas, ritmos monocromáticos e o sentimento nostálgico carregado na evocação vocal de Rory Hinchey. Ainda neste campo de misturas do rock artístico e do post-punk experimental dos anos 80, os Alpha Strategy avançam com "To the Woods That I Know", que é um daqueles temas muito bem concebido, com uma introdução, desenvolvimento e conclusão completamente em sintonia, apesar da sua personalidade arrastada.
Mas se é para falarmos de boas malhas deste disco podemos começar logo pela frenética música de abertura "I Smell Like a Went Tent", que entre intervalos rítmicos, uma voz desesperada e um ambiente tipicamente caótico apresenta a sofreguidão de se ser humano. Além desta também nunca esquecer de referir "Pissed Out The Fire" que abre com os jeitos da spoken-word contemporânea, aquelas guitarras cintilantes e uma percussão tipicamente calma, conduzindo-nos lentamente a um ambiente de confronto. "Parada" também segue as mesmas pisadas, apresentando-nos uma banda com uma evolução clara face ao trabalho antecessor.

Em suma, The Gurgler é um disco difícil. Difícil no sentido em que meia dúzia de audições não são suficientes para perceber todo o conceito que lhe está envolto. Difícil no sentido em que as regras da composição musical são mudadas e conduzidas como o quarteto de Toronto quer. Difícil também porque se apresenta como um trabalho sonoro bastante diferente daquilo que se tem feito, além de difícil de rotular. The Gurgler é claramente um disco da vanguarda para ouvintes que querem o som da frente.


Os Alpha Strategy são Rory Hinchey (voz, lírica), James McAdams (guitarra), Evan Sidawi (bateria e percussão) e Dan Edwards (baixo/guitarra). Aproveitem para conhecer melhor a banda através da sua página do Facebook, ou se preferirem pela página do Bandcamp.