Wim Mertens e a sua inescapável poesia auditiva
Wim Mertens e a sua inescapável poesia auditiva
Fevereiro 9, 2020 11:21 pm
|
Wim Mertens e a sua inescapável poesia auditiva
Fevereiro 9, 2020 11:21 pm
|
Em forma de celebração de 40 anos de carreira, Wim Mertens seduziu-nos, na noite de 2 de fevereiro, no Centro Cultural de Belém, com um concerto ímpar, integrado na digressão mundial que assinala a efeméride.
Perante uma sala quase lotada, o autor dos clássicos Struggle For Pleasure (1983), Maximizing The Audience (1985), A Man Of No Fortune, And With A Name To Come (1986), The Belly Of An Architect (1987) entre muitos outros, fez-se acompanhar de um quinteto de cordas, onde, durante quase duas horas, mostrou-nos o motivo do seu reconhecimento a nível mundial, enquanto uma das maiores "vozes" do piano contemporâneo.
Após uma discreta entrada em palco, Mertens e o seu ensemble (Tatiana Samoui e Liesbeth Baelus, violinos; Liesbeth De Lombaert, viola de arco; Lode Vercampt, violoncelo e Ruben Appermont, contrabaixo)

abriram a noite com "The Belly", seguido de "The Tonality", acabando, já no encore, com "Wound to Wound". Pelo meio ouviu-se "Inergys", uma notável construção melódica e rítmica, "Bassin d'attraction", "No Testament", "European Grasses" e "Often A Bird". Numa exacerbação melódica e tirando partido do silêncio a que a sua música convida, o pianista e compositor belga foi pincelando de cores a tela de um cenário multifacetado.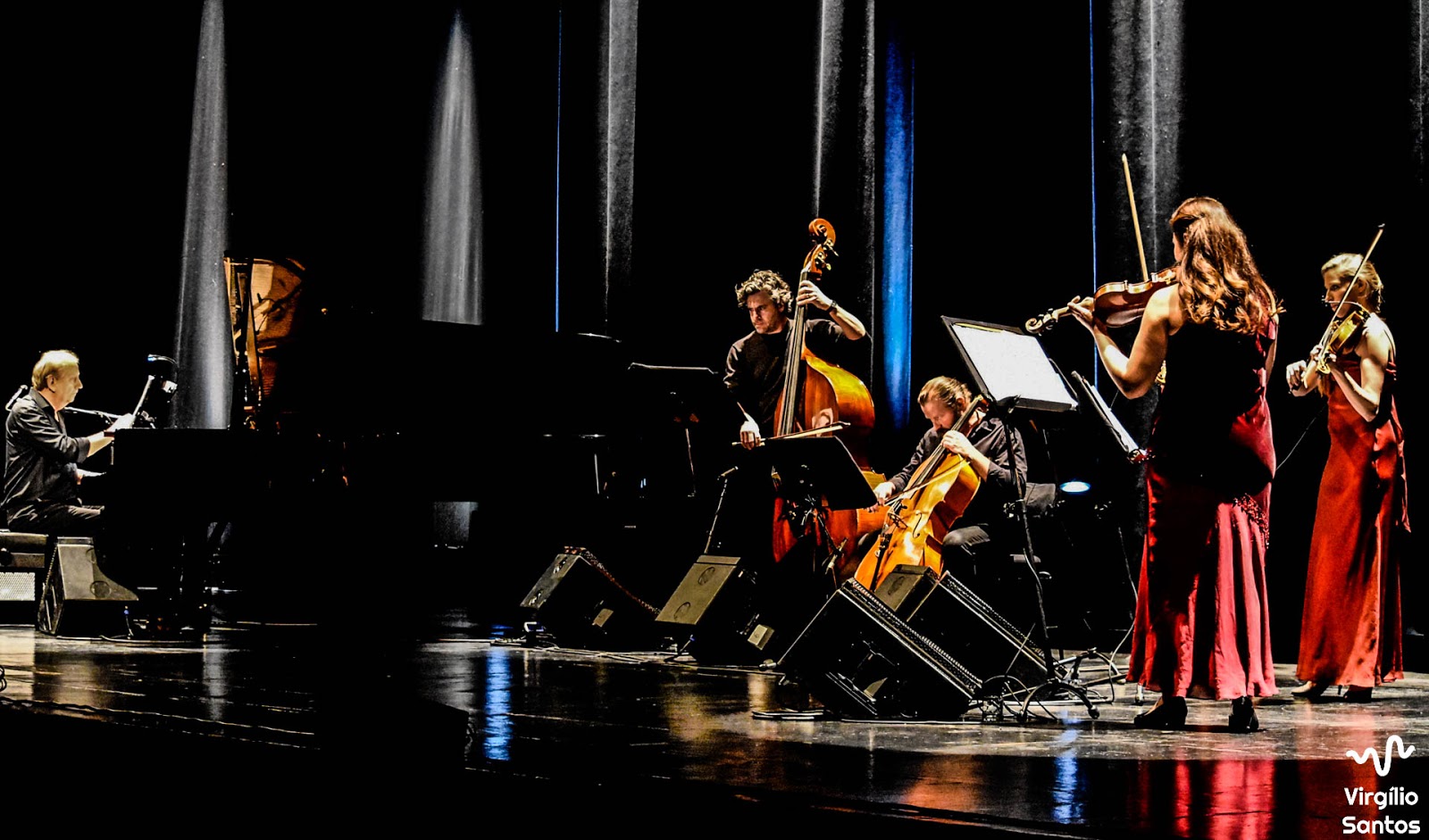 Esta deleite sonoro foi interrompido por um breve intervalo, quebrado pela entrada de Wim Mertens para interpretar duas peças a solo. Juntaram-se-lhe os restantes músicos, para momentos de pura poesia onde se destacaram, pela exímia performance, a violinista Tatiana Samouil e o violoncelista Lode Vercampt . Ouviríamos então "European Grasses" e "Often A Bird". O público com grande ovação pediu um "encore", ao que o músico acede e que acaba por durar quase dez minutos, preenchido com a notável interpretação de "Wound To Wound".
Desta noite podemos dizer que assistimos a um memorável concerto, "a fruição de uma música que traz um acordar às nossas vidas". Mertens contemplou-nos com um espetáculo de música multifacetada, misteriosa, envolta em simplicidade. Música que obedece à intuição, que acontece ao nível dos sonhos, da imaginação pura, sem passar pelo crivo da razão. Mesmo quando o "emaranhado" de sons parece complexo, triunfa sempre em território do diáfano, do singelo, do belo.
Há ainda a referir a voz de Wim Mertens, como se de um sétimo instrumento se tratasse, uma voz de expressões vocais que parecem não ter sentido, por vezes semelhantes a lamentos, mas que acabam por adquirir significado e alcance. O resultado traduziu-se em música inescapável a tudo o que nos faz e torna humanos!
Texto: Armandina Heleno
Fotografia: Virgílio Santos