7 ao mês com Kill Your Boyfriend
7 ao mês com Kill Your Boyfriend
|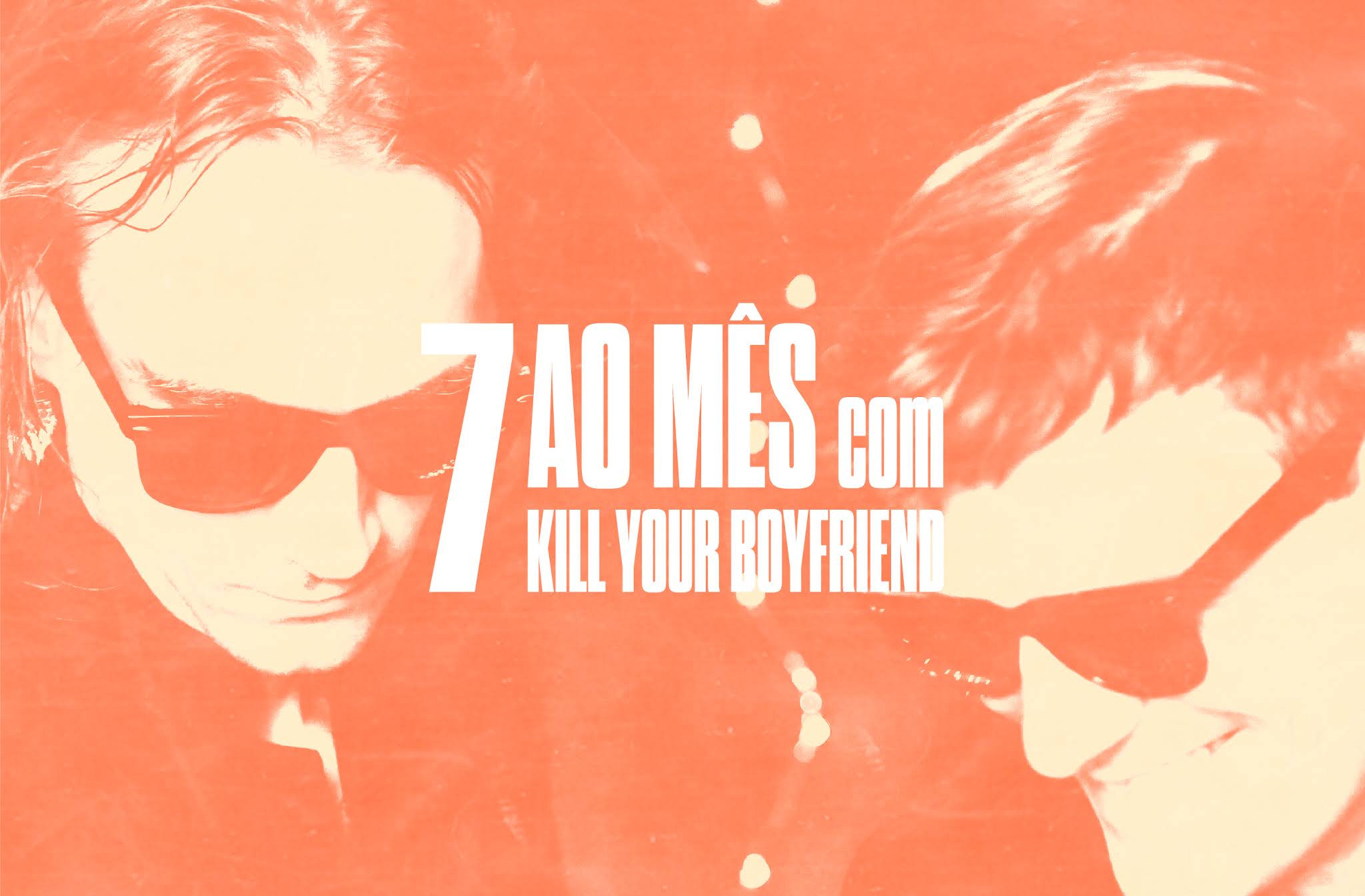 7 ao mês com Kill Your Boyfriend
|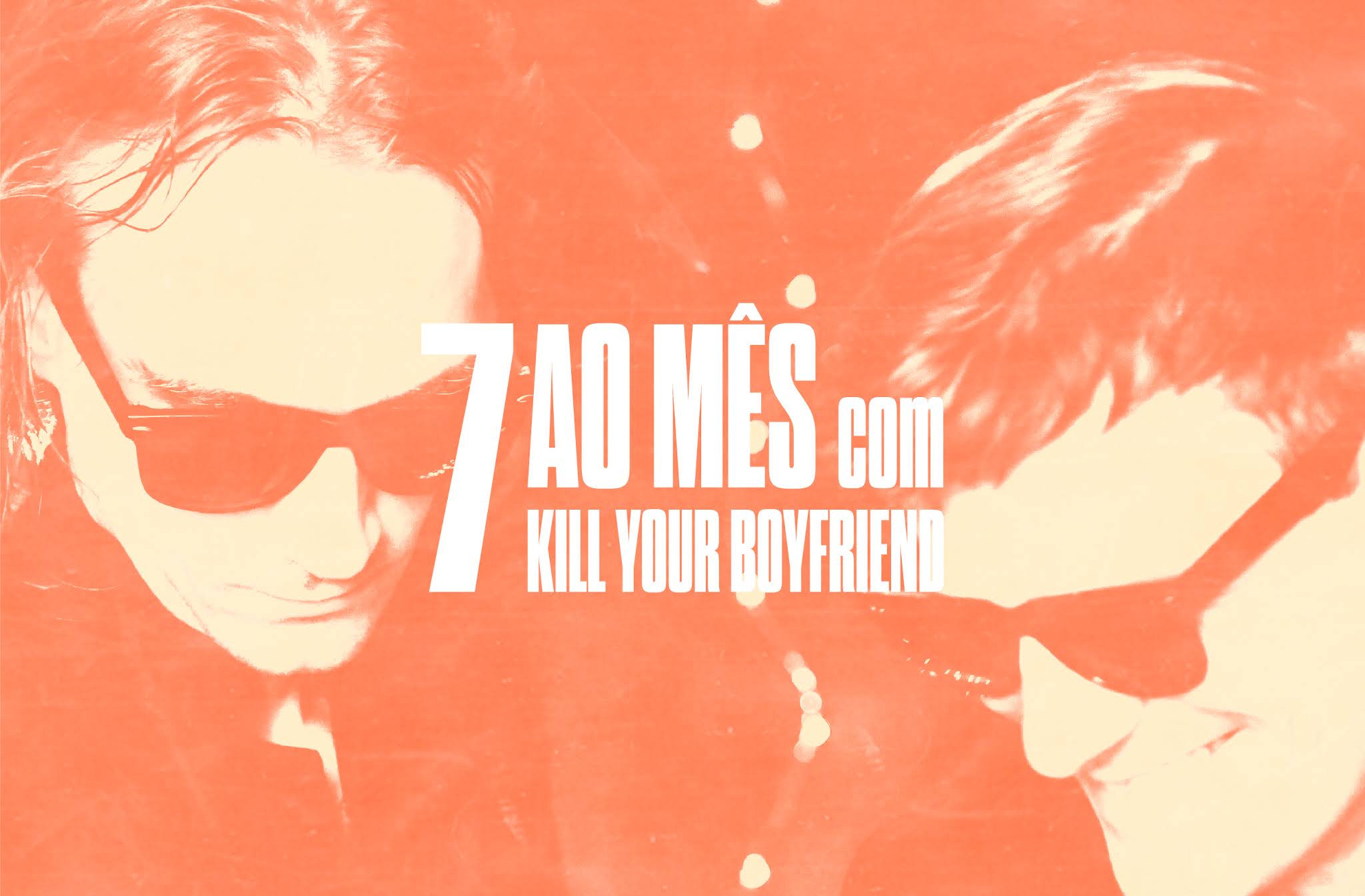 Estávamos em 2016 quando a eletrónica crua dos italianos Kill Your Boyfriend nos chamou a atenção, aquando o lançamento do seu último EP de estúdio Ghosts. Este trabalho, ruidoso na essência – mas com traços fervorosos e arrojados da era do proto-punk cruzados com o dinamismo da eletrónica industrial – bastou-nos para o considerar uma das melhores edições curta-duração que esse ano deu à costa. Essa certeza leva-nos a crer que, quatro anos após esse feito, Killadelica voltará a chamar chamar a atenção pela sua abordagem sonora.
No período que antecipa o novo registo longa-duração decidimos investigar mais sobre as influências que levaram à criação dos Kill Your Boyfriend como projeto. Desta forma, para a edição de outubro do novo 7 ao mês convidamos Matteo Scarpa e Antonio Angeli a escolher sete referências fundamentais não só no seu trabalho enquanto artistas, mas também na estruturação da sua personalidade.
Enquanto Killadelica não chega às prateleiras os Kill Your Boyfriend convidam-nos então a ingressar numa viagem fascinante à (re)descoberta dos nomes de vanguarda ativos entre as décadas de 1970 a 1990. A experiência chega abaixo.
Suicide – "Ghostrider" (1977)
Escolhemos esta música desta banda incrível, os pais da no wave, mas provavelmente todo o álbum Suicide teve um profundo impacto em nós. A atmosfera neurótica desta música sempre nos deixou loucos. A forma de cantar rock'n'roll do Alan Vega combina perfeitamente com o enredo repetitivo/obsessivo da música criada juntamente com Martin Rev.
The Velvet Underground – The Velvet Underground and Nico (1967)
Não confiamos em ninguém que não ame este álbum. Nós fazemos certamente parte do grupo de músicos que começaram a tocar muito por causa deste álbum e não negamos isso. Quando começámos a tocar ao vivo, usávamos óculos de sol em homenagem a eles. A poesia que este álbum lança engloba tudo. De alguma forma este álbum é melancólico e os membros da banda colocam nele as suas próprias experiências na procura do equilíbrio perfeito entre os sons barulhentos e as partes melódicas das músicas.

The Fall – "Sleep Debt Snatches" (1987)
Sempre fomos fascinados por esta música que começa de uma forma e vai se transformando numa outra, juntamente com uma paisagem rítmica rica e desestruturada. Eles têm um ótimo gosto no refinamento sonoro e, acima de tudo, gostamos da natureza levemente punk que os The Fall transmitem nesta música.
Kraftwerk – Radio-Activity (1975)
Não podemos deixar de citar este álbum entre as nossas principais fontes de inspiração. As suas texturas sonoras frias e rarefeitas cativaram-nos desde a primeira audição. Os Kraftwerk conseguem transportar-nos para o imaginário nuclear que nos propõem através do seu conceito. A forma como eles refinam os sons analógicos forneceu-nos inúmeras ideias para a abordagem eletrónica em algumas das nossas canções.
The Jesus and Mary Chain- Psycho Candy (1985)
O que é podemos dizer? Este álbum contaminou profundamente o nosso interior: em termos de ruído branco e reverberações é a síntese perfeita daquilo que amamos. Às vezes, o álbum é realmente cru, mas ao mesmo tempo muito pop e sonhador. É impossível resistir a esta viagem incrível. O Pyscho Candy é um álbum obrigatório na coleção!
PIL – Metal Box (1979)
Está entre os discos que consideramos fundamentais à nossa formação artística. O Johnny "Rotten" Lyndon, sem dúvida, moldou uma obra-prima básica para o futuro da música post-punk. Temas como "Poptones", "Socialist", "Albatross" ou o "Careering" marcaram a nossa adolescência. A voz carismática e o seu génio musical conferem às canções uma singularidade que sem dúvida fez dos PIL uma das bandas mais importantes na cena post-punk à escala global.
07. The Normal – "Warm Leatherette" (1988)
Caso ainda não tenham percebido, nós gostamos muito de músicas punk eletrónicas com ritmos repetitivos e compulsivos. Além disso, esta música em particular é inspirada em "Crash", um dos nossos livros preferidos de Ballard. A eletrónica, embora minimal e fria, consegue criar uma parede de som que combina perfeitamente com o canto de Miller. Uma música desenhada para as pistas de dança.
Se quiserem saber mais sobre o trabalho dos Kill Your Boyfriend aproveitem para os seguirem através do Facebook ou pela página do Bandcamp, onde podem ficar a par da sua discografia.
———— ENGLISH VERSION ————
It was in 2016 when the raw electronics from the Italian darlings Kill Your Boyfriend caught our attention, through their latest EP, Ghosts. This work, noisy in essence – but with fervent and bold features of the proto-punk era crossed with the dynamism of industrial electronics – was enough for us to consider it one of the best short releases that year stranded. This certainty leads us to believe that, four years after, the new Killadelica album will, once again, draw attention to Kill Your Boyfriend's sound approach.
In the anticipation period of the new Kill Your Boyfriend's full-length, we decided to investigate more about the influences that led to the creation of this project. Thus, for the October edition of "7 ao mês" we invited Matteo Scarpa and Antonio Angeli to choose seven fundamental references not only in their work as artists but also in the structuring of their personality.
While Killadelica does not reach the shelves, Kill Your Boyfriend invites us to embark on a fascinating journey to the (re) discovery of the vanguard names active between the 1970s and 1990s. The experience follows below.
01. Suicide – "Ghostrider" (1977)
We chose this song of this incredible band, fathers of No Wave, but probably the whole album Suicide has influenced us deeply. The neurotic atmosphere of this song has always made us go crazy. Then Alan Vega's rock'n'roll singing combines perfectly with the repetitive/obsessive plot of the song created with Martin Rev.
The Velvet Underground – The Velvet Underground and Nico (1967)
We don't trust anyone who doesn't love this album. We are certainly part of that group of musicians who have started playing also because of this album and we do not deny that. When we started playing live, we wore sunglasses in homage to them. The poetry that this album release encompasses everything. In some way this record is melancholic and the band members put on it their own experiences searching for the perfect balance between the noisy sounds and the melodic parts of the songs.
The Fall – "Sleep Debt Snatches" (1987)
We were always fascinated by this song that starts in one mood and turns into another, with a rich and unstructured rhythmic landscape. A great taste in sound refinement and above all we like the slightly punk nature that The Fall transmits in the song.
Kraftwerk – Radio-Activity (1975)
We cannot fail to mention that this album is among our main sources of inspiration. Its cold and rarefied atmospheres' sonic textures have captivated us from the first listening. The Kraftwerk manages to transport you into the nuclear imaginary that they propose to us with their concept. Their refinement of analog sounds has provided us with numerous ideas for the approach to electronics in some of our songs.
The Jesus and Mary Chain – Psycho Candy (1985)
What can we say? This album contaminated ours deeply inside: in terms of white noise and reverberations, it is the perfect synthesis of what we love. Sometimes the record is really rough but at the same time very pop and dreamy. It is impossible to resist this incredible trip. Pyscho Candy is a must-have in your own collection!
PIL – Metal Box (1979)
Among the albums that we consider the fundamental in our artistic formation. Johnny "Rotten" Lyndon undoubtedly shaped a staple masterpiece for the post-punk future. Songs like "Poptones", "Socialist", "Albatross" or "Careering" have marked our adolescence. The charismatic voice and musical genius give the songs a uniqueness that undoubtedly made PIL one of the most important bands in the global post-punk scene.
The Normal – "Warm Leatherette" (1988)
In case you didn't get it yet, we really like electronic punk songs with repetitive and compulsive rhythms. Besides this song is based on "Crash", one of our favorite Ballard's books. The electronics, albeit minimal and cold, succeed to create a wall of sound that perfectly combines with Miller's singing. A song designed for the dance-floor.
If you want to know more about Kill Your Boyfriend's work you can follow them on Facebook or through their Bandcamp page, where all the discography is listed.