The Telescopes in interview: "The function of art is to keep the balance"
The Telescopes in interview: "The function of art is to keep the balance"
Fevereiro 4, 2021 11:03 pm
|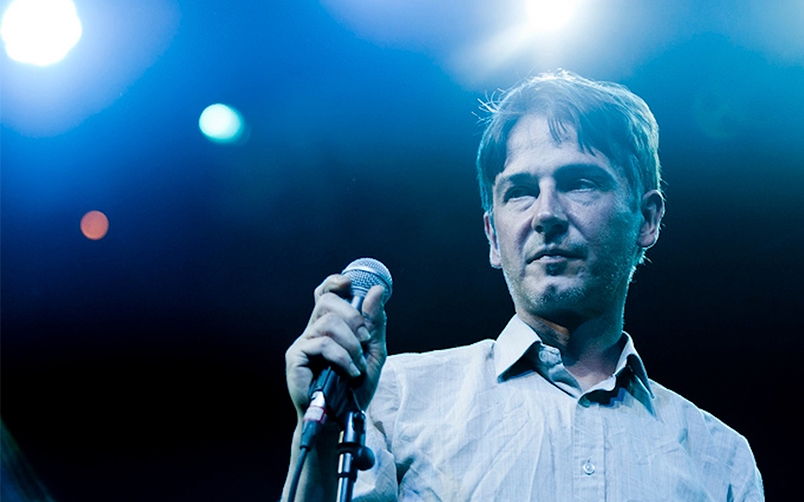 The Telescopes in interview: "The function of art is to keep the balance"
Fevereiro 4, 2021 11:03 pm
|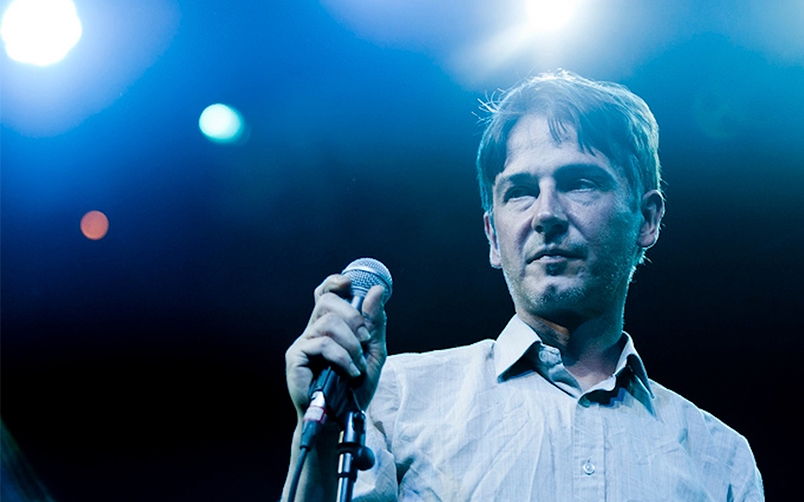 © Gaëlle Beri
When we talk about the shoegaze, psychedelic, noise and experimental movement that marked a sonic era in the late 80s and early 90s in the UK, we really have to talk about The Telescopes. Founded in 1987 by Stephen Lawrie, Burton upon Trent's band whose early influences included The Velvet Underground, Suicide, The Stooges and 13th Floor Elevators, is a good example of how an underground band can reach 30 years of existence and demonstrate respectable creative and sonic health.
Reverence Valada Festival, Santarém, and the extinct rock club Sabotage, in Lisbon, were presented with several appearances by The Telescope in the last 10 years, and if the world was not experiencing a troubled pandemic at this moment, they would probably come to present Songs Of Love And Revolution, record released today (February 5) through Tapete Records, "a solar burst of trance inducing rhythms gripped at the helm by a wall of throbbing bass held in place by a swarm of encircling guitars".
We spoke to Stephen Lawrie about the new record of The Telescopes and the weight of the pandemic in its production, his past experiences in our country, the impact of the streaming industry, being part of Tapete family and much more. Read the full interview below.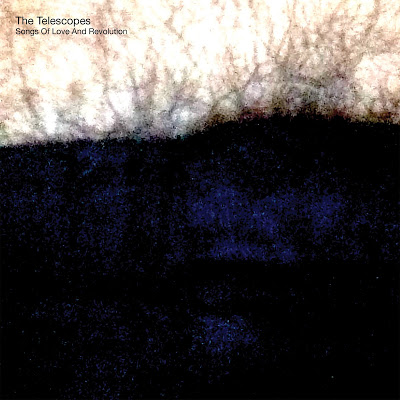 Artwork of Songs Of Love And Revolution
Songs Of Love And Revolution is your 12th record, composed in its essence by slow-burning ballads. What is this revolution that the title mentions? What were the main inspirations to write this collection of songs?
Stephen Lawrie (SL) – To stand by our calling, no matter what. As an act of love. All creative industries are under threat but at the heart of creativity is not industry, the function of art is to keep the balance. Come bring your love, come bring your revolution.
There was no initial concept for the album, it grew into itself over a period of time. Each individual song has its own identity and source of inspiration.
Can you please talk us through the process of writing and recording? Do you feel that this process has changed over the years? What role does improvisation play in this process?
SL – The songs for this album were written in quite a traditional way, with an acoustic guitar. Each one started from a small seed of an idea. The process is one of living every moment with each song, growing together in partnership, injecting life into one another. This is a process that is consistent throughout the recording as well as the writing of each song.
Improvisation is a way of reacting to each moment intuitively, it can be used as a method of finding new pathways when the way ahead is unclear. It's a different form of expression to playing a written part, more reactionary to the moment.
If you had to name a song that you found most difficult to record on Songs Of Love And Revolution, what would it be?
SL – None. They all came very easily, from start to finish. There was a strong momentum throughout.
What was the weight of the pandemic in the production of this record? Do you think it reflects the context in which we live now?
SL – All art is an expression of context, so naturally it had an impact. "This Is Not A Dream" for example, "Nothing seems how it should seem" but "this is not a dream". That was written during the first lockdown when it felt like everyone seemed to be in a state of Mesmer. "This Train" was written after that initial lockdown when travel was permitted and I was able to record, it's a memo to keep on track, when the rail has gone. I think that applies to the act of touring as much as the current situation. Every song has a reflection in there somewhere.
Although we are living extremely difficult times for clubs and concert halls, can we expect in the future some concerts to present your new record?
SL – I certainly hope so, these songs were meant to be played live and the whole live experience is crucial to The Telescopes. It's not just the pandemic situation we have to deal with unfortunately, Brexit is having a catastrophic impact on creative/ independent industries.
In the last 10 years The Telescopes have performed several times in Portugal, particularly in the extinct rock club Sabotage, where you performed at least three times. What did you like most about our country? Which Portuguese bands amazed you?
SL – It was awful to hear the news about Sabotage, The Telescopes have always had a great experience there. It will truly be missed.
Portugal has always been very kind to The Telescopes, a lot of good friendships have formed over the years. It's a beautiful country, I love the architecture in Lisbon and Porto, the older parts of the cities. I also love the tranquility of the countryside.
The Telescopes performed a show in Bruxelles with a band from Lisbon called Sunflare, they were quite a sonic force live.
Almost all of The Telescopes' records are virtually available on Spotify, some of which are only present on the Bandcamp platform. What is your opinion about streaming services, especially when it comes to the promotion and creativity of artists?
SL – If it was up to me then I would take everything down from Spotify. It's all available to stream and download on The Telescopes Bandcamp where artists have fair trade with the company. Spotify certainly help promote artists but their returns are too extreme. The artists make less than a pittance, whereas their profits are through the roof. They do business with a choke hold whereas Bandcamp have a supportive approach with a perspective on creative community.
Fuzz Club released in 2019 an edition of the 30th anniversary of Taste, the debut record by The Telescopes, where experimentation seemed to be the main engine of the band. Does this record hold a very special place in your heart, as a first love?
SL – It's strange with albums, you live them 24/7 from the initial spark of creation, all the way up to listening to the final copy, then it's like saying goodbye, they are no longer your own. The music goes out into the world where everyone forms their own opinion about it. It's hard to recognize it in the same way anymore. I think the music still holds true, but life has changed the way I hear it.
Hidden Fields was your first record released by Tapete in 2015, a German label that was also responsible for the release of As Light Return (2017) and Exploding Head Syndrome (2019). Oncemore, Tapete is preparing the release of Songs Of Love And Revolution on February 5th. How does it feel to be part of Tapete's family for the past six years?
SL – Tapete are great to work with, I think every record we've done together has been a strong release, each department of the label does a fantastic job. The whole company is very respectful of creativity.
With more than 30 years of life, what can The Telescopes still offer the world of music and its fans? Do you feel as an influence for a younger generation?
SL – There are always new bands coming through that cite The Telescopes as an influence, like I say, the music goes out into the world and it becomes something else to others. There's no intention to influence, only the suggestion of possibility; the possibility of heeding your calling.
Your friend and former bandmate David Fitzgerald sadly passed away last December. Do you want to entrust us with an amusing story in honor of David?
SL – As soon as David joined The Telescopes there became a problem with Bassists and Drummers, none of them considered him to be a 'proper' musician', it would always end with them confronting me with the ultimatum 'it's him or us'. Each time it happened, the reasons given would secure their swift departure. David was an original, not many people had the foresight to see it, even him sometimes, but he wasn't afraid, he completely understood the purpose of The Telescopes, it was crucial to him for the music to reach beyond the realm of natural vision.
Regarding the lockdown, how are you keeping yourself busy, in order to protect your mental health and sanity?
SL – There's a lot of new releases on the way and lots of projects underway. I'm having to work remotely on some of the more collaborative projects, but it's all still possible except for live concerts at the moment. Music has a remedy for most ailments.
To close this interview, could you suggest to the readers some artists or groups that you have been obsessed with lately?
SL – There's been nothing current on the turntable lately, all old stuff. Never far from the needle are, Monster Mash by Bobby Picket, Working Class Hero/ John Lennon, Wandrin' Star/ Lee Marvin, Magic Moments/Val Doonican, I'm Your Man/Wham.