7 ao mês com Daniel Catarino
7 ao mês com Daniel Catarino
|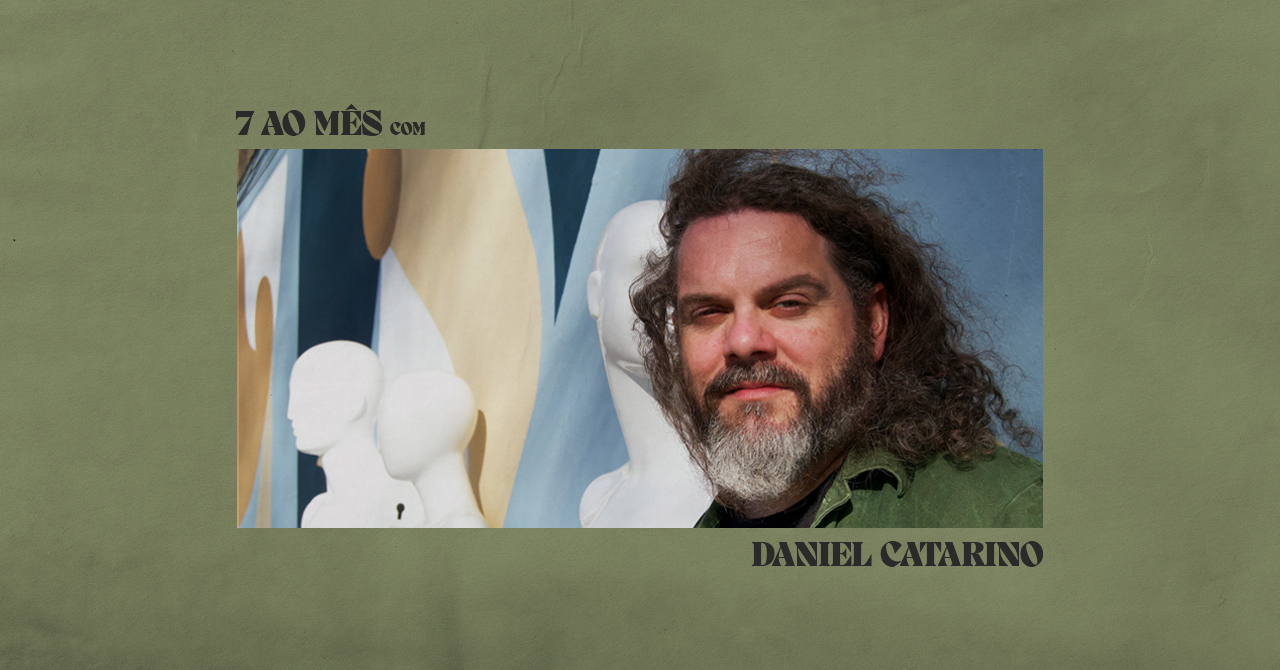 7 ao mês com Daniel Catarino
|
O convidado desta edição de 7 ao mês é Daniel Catarino, artista alentejano migrado no Porto que lançou no início de maio o disco Megafauna, pela mão da também portuense Saliva Diva. Megafauna constitui o primeiro disco da trilogia Bioma, em que o músico se propõe a ligar metaforicamente as diferentes formas de vida com as especificidades humanas, a explorar a relação tóxica entre humanos e as outras formas de vida do planeta.
O registo surge 2 anos após o EP Isolamento Voluntário?, e 4 anos após o disco Sangue Quente Sangue Frio. Nele estão reunidas oito canções rock despretensiosas, interpretadas maioritariamente no formato power trio que apresenta ao vivo, com momentos de psicadelia não conformada. É rock, com a honestidade que se lhe deve quando se tenta observar a vida de perto com olhos de satélite. Foi produzido pelo próprio com Ricardo Cabral e Manuel Molarinho (Baleia Baleia Baleia) no entretanto gentrificado Quarto Escuro, no Porto.
Tiago Sousa – "Waking Morning"
De Oh Sweet Solitude, provavelmente dos discos que mais ouvi nos últimos anos. O Tiago tem uma linguagem bastante única no piano, que tanto é melódica como experimental em doses certeiras.
Joel Fausto & Illusion Orchestra – "Criatura"
Este foi o álbum que mais ouvi no último ano, é jazz para noites de nevoeiro, perfeito para quem vive no Porto.
T-Rex – "Children of the Revolution"
De vez em quando parto em expedição ao passado, para explorar terrenos que antes me passaram ao lado. T-Rex é o caso mais recente.
Julia Jacklin – "Body"
Gosto de canções com ambiente, que permitem viajar sem destino. É o caso desta.
Minyo Crusaders – "Otemoyan"
Infelizmente só descobri esta banda (obrigado Sales) na semana após terem tocado em Évora. Há qualquer coisa muito fascinante neste grupo de cumbias com letras tradicionais japonesas.
Low – "Nothing But Heart"
Uma banda muito especial que infelizmente terminou (RIP Mimi) ou continuará noutra forma. Únicos.
Lael Neale – "Blue Vein"
Das minhas canções preferidas dos últimos anos, tinha de mencioná-la.
Após passagens pelo GentriFest, no Porto, CRU, em Famalicão e Capote Fest, em Évora, o cantautor tem agendadas mais datas de apresentação do novo disco: 24 de Junho no Maus Hábitos, em Vila Real, e 20 de Agosto nas Festas de São Fecundo, em Abrantes.
Megafauna foi lançado em vinil, CD e encontra-se disponível no Bandcamp e restantes plataformas digitais. Aproveitem também para seguir a Daniel Catarino nas suas redes sociais (Bandcamp, Facebook, Instagram).