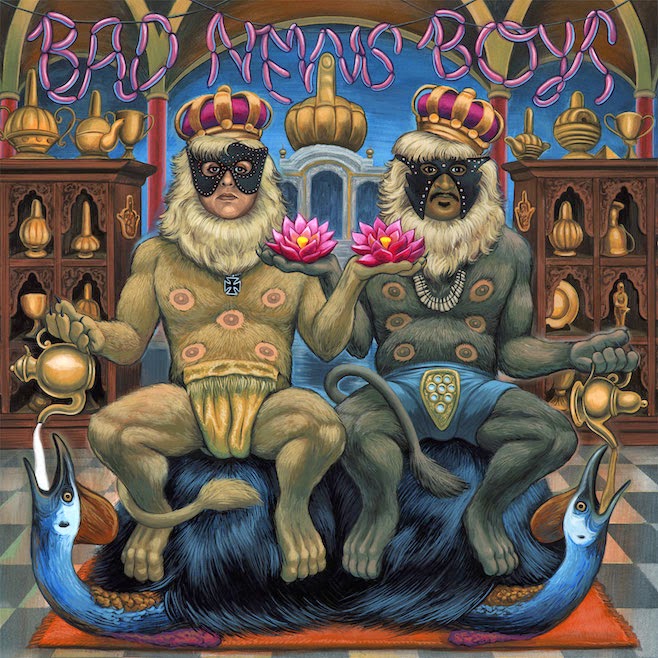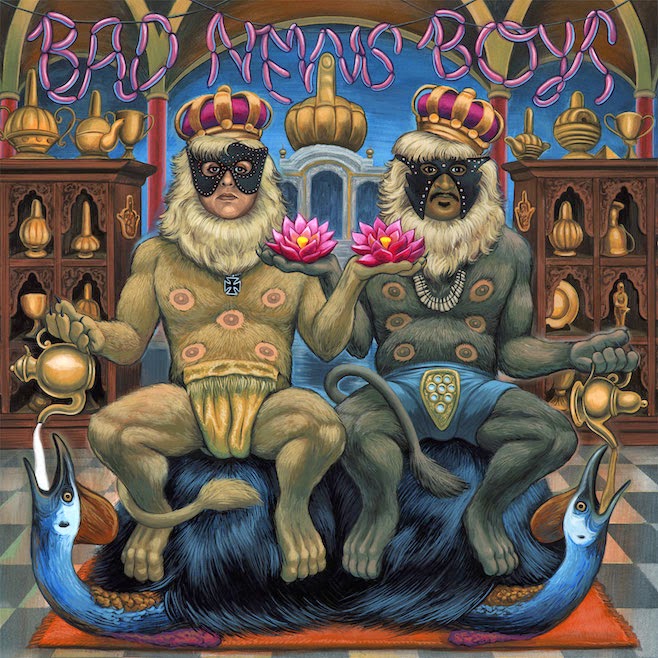 Bad News Boys
// In The Red // Março de 2015
7.0/10
Arish Khan (King Khan) e Mark Sultan (BBQ) tinham já o poder
de fazer vibrar ossos quando muitos de nós ainda tinham fraldas para ser
mudadas. Visualizaram bem os cerca de vinte anos que já pesam nas costas deste
duo? É muito. Os dois músicos aventuraram-se, primeiramente, como Spaceshits e
foram dando algumas cambalhotas, tendo, no novo milénio, adoptado o nome The King
Khan & BBQ Show. Ao que parece, o nome tem gerado alguma confusão e
inquietação e, apesar da coisa não se ter oficializado completamente, o par de
músicos tem vindo a preferir Bad News Boys como denominação. E é com este nome
que o quarto álbum da banda é lançado.
Bad News Boys foi produzido pela In The Red Records e conta
com oito faixas orelhudas cuja duração não se estende para lá do necessário. Quem
esperava uma sonoridade diferente ou alguma evolução, não viu as suas
expectativas cumpridas, já que o álbum oferece aquilo a que o duo sempre nos
habituou – um rock com energia e suor, dançável e despreocupado, com pitadinhas
dum punk de garagem e de lembranças revigoradoras dos 70's. O que mais me
surpreende é a ligeireza com que produzem guitarras e harmonias vocais cuja
simplicidade nunca interfere com o ataque e força das músicas.
O álbum consegue balancear-se entre baladas/peso e sentimento/paródia. "Buy Bye Bhai" é o exemplo de música lenta com nostalgias dos anos 70, procedido
da malha mais pesadona, a "D.F.O", cujo punk transborda secreções fisiológicas, evidentes
no refrão "diarrhea fuck off". "Never Felt Like This" é, sem dúvida, a mais
profunda e introspectiva, antecedendo "Snacking After Midnight", que quebra o
gelo com um rock n' roll em modo paródico. Entre as músicas mais lentas e as
mais rápidas, a "Illuminations" consegue manter um equilíbrio, sendo uma das
melhoras melodias do álbum.
A diferença de peso entre as músicas talvez seja a mais
valia de Bad News Boys. Se assim não fosse, poderíamos estar perante um álbum
demasiado flat e cansativo, já que a guitarra anda quase sempre pelos mesmos
territórios.
Depois duma tour com os Black Lips, ficamos à espera da
passagem de The King Khan & BBQ Show por Portugal, para que as suas músicas
façam o que de melhor podem fazer – dar um espectáculo de meter toda a gente a
dançar. Mark Sultan já mostrou o seu interesse em cá vir: "SPAIN/PORTUGAL:

is there anyone out there who
can book/coordinate a small tour for me in late MAY? a have had a few people
write me about single shows, and i know people here and there, but just don't
have time to piece it together. if so, thanks! write my inbox."