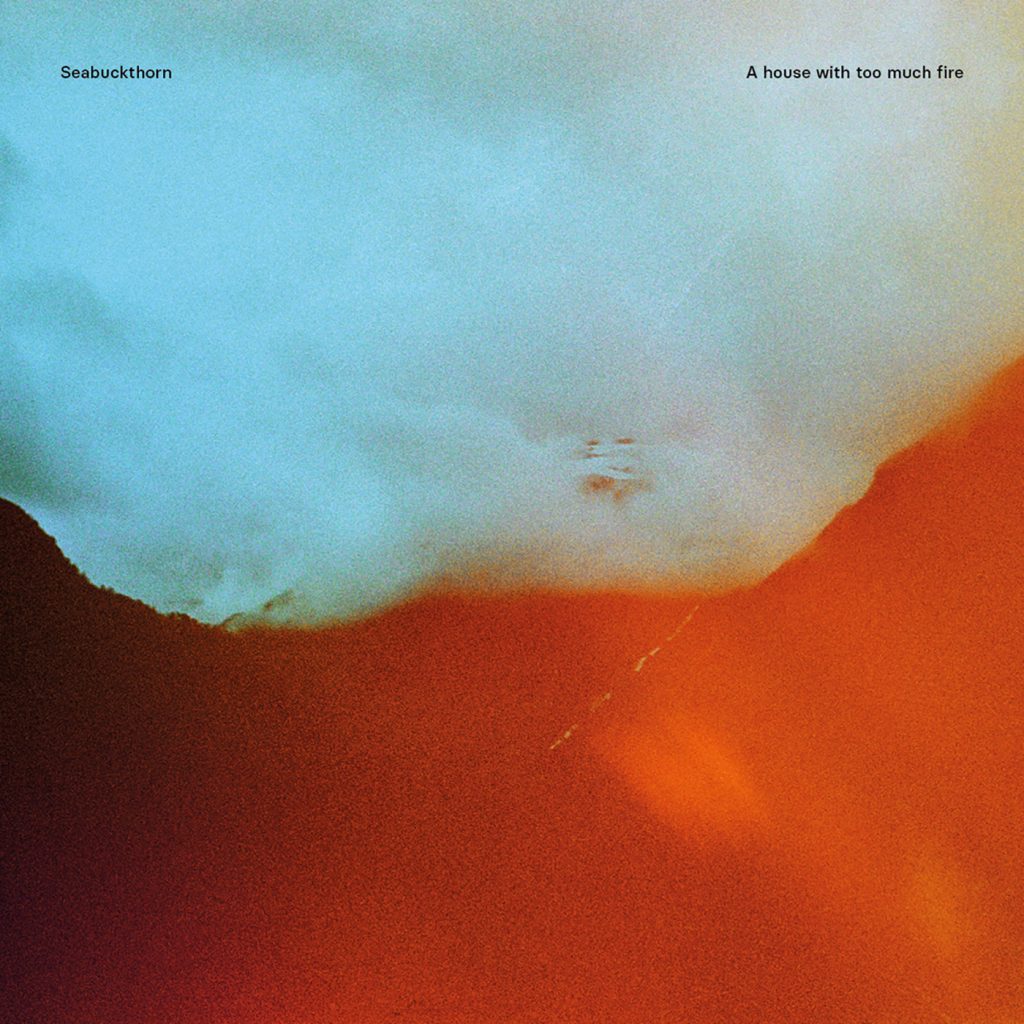 A house with too much fire // La Cordillère e Bookmaker Records // junho de 2018
Andy Cartwright é um guitarrista britânico que se apresenta a solo sob o moniker de Seabuckthorn. Dotado de uma capacidade multi-instrumental, Andy Cartwright explora as diferentes realidades compreendidas entre 6 e 12 cordas, recorrendo a técnicas como o finger picking ("dedilhar"), bowing (ato de experimentação com um arco) e o uso de slides.
Desde 2008 a lançar discos em nome próprio, Seabuckthorn regressou este ano às edições discográficas com A house with too much fire, álbum composto por dez músicas de cariz introspetivo e cinematográfico, sucedendo a Turns (2017), fortemente influenciado pelo terreno montanhoso do Sul dos Alpes, local onde Cartwright reside atualmente depois de ter vivido em cidades como Londres, Paris e Bristol. Gravado no final de 2017, a maioria das canções foi obtida num take, conferindo a este novo trabalho um caráter mais espontâneo, focando-se em improvisações soltas e mínimas, tão aparentes nas performances ao vivo de Seabuckthorn. Em A house with too much fire há a introdução de novos elementos sonoros como o banjo, clarinete e o sintetizador, tendo a masterização ficado a cargo do produtor e compositor Lawrence English.


Desde a faixa de abertura à faixa que encerra este disco é possível identificar um conjunto de sonoridades que se mesclam num drone-folk revestido de essência americana, a trazer à tona os nacionais Berlau & AM Ramos, sendo também possível reconhecer uma faceta mais clássica e contemporânea em alguns dos temas. Falando em destaques, temos o tema "It Was Aglow", que quase parece retirada da banda sonora do filme Babel (2006); por sua vez "A house with too much fire" e "Blackout" remetem-nos para o universo mais gélido e ambiental de Jóhann Jóhannsson; e "Somewhat Like Vision", tema que nos apresenta uma percussão muito suave que combina perfeitamente com o classicismo presente.
Ao todo são 38 minutos em que Cartwright explora novos sons crus de guitarra, proporcionando um maior conjunto de texturas e atmosferas. As músicas apresentam na sua maioria uma duração de 3 a 4 minutos, cada uma com o seu universo intrínseco, permitindo no seu todo esvaziar-nos a mente e levar-nos numa viagem calma pelas montanhas, como se de aves nos tratássemos.




A house with too much fire chega às lojas em formato vinil a 1 de junho com os selos da La Cordillère (Marselha) e Bookmaker Records (Paris).