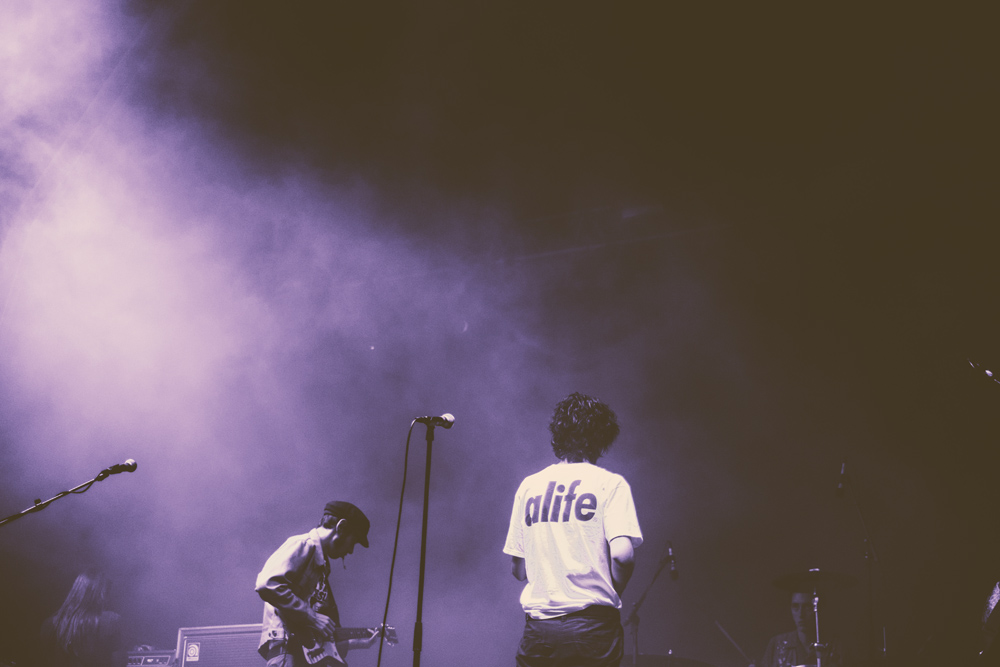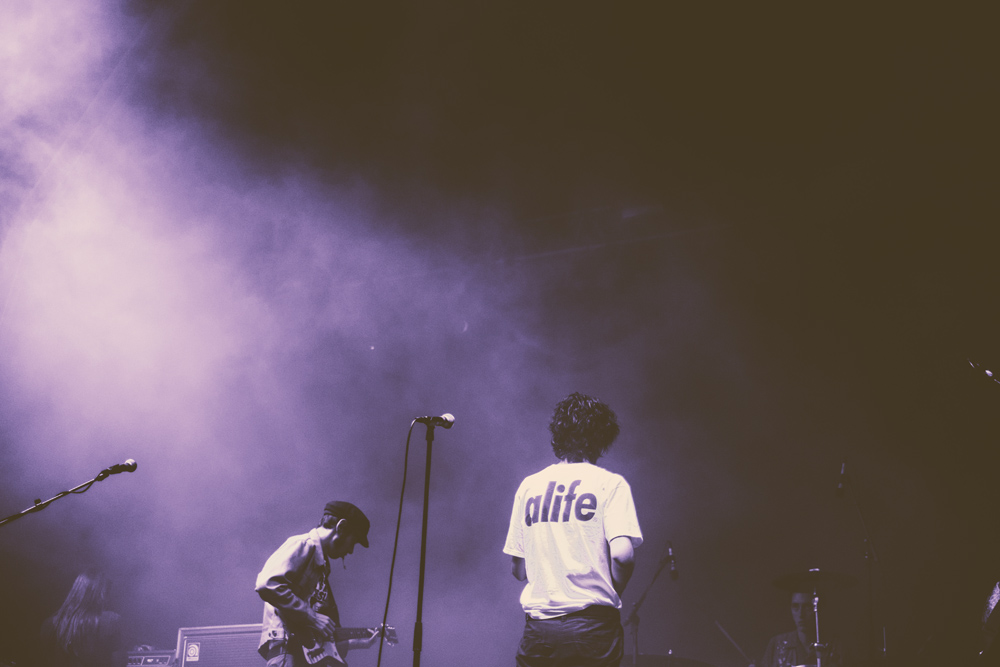 © Vera Marmelo | Fat White Family – Reverence 2016
Nick Allport é, desde 2014, o principal rosto da marca Reverence, em Portugal. O nome, que já havia sido utilizado por Allport num outro festival que organizou em Londres, voltou a ser recuperado na primeira edição do Reverence Valada e é agora aplicado, à quarta edição, sob a designação Reverence Santarém, resultado da mudança na localização do festival. Reduzida a dois dias – 8 e 9 de setembro – a nova edição do Reverence reúne este ano, um total de 42 bandas, no Parque da Ribeira, em Santarém.


Desde o seu nascimento em Portugal, o Reverence tornou-se um dos maiores eventos dedicados à música stoner e psicadélica. Podemos comprovar isso nos nomes de peso que tem trazido até à data em Portugal como os lendários Hawkwind, The Damned, The Systers of Mercy, A Place To Bury Strangers, Spectres, The Brian Johnston Massacre, The Horrors, Samsara Blues Experiment, entre vários outros de renome, e pelas menções que tem ganho pela imprensa.
Este ano muda de casa, mas não é por isso que diminui na relevância e qualidade do mix de artistas apresentado (afinal, parar é morrer). A título de exemplo cite-se o histórico concerto dos Gang of Four que trazem 40 anos de experiência a palco e o post-punk reminiscente dos anos 80. É sem dúvida o concerto imperdível do Reverence Santarém e promete ser um dos grandes concertos do ano, a julgar pelas setlists dos últimos concertos ao vivo. Singles como "(Love Like) Anthrax", "Not Great Men", "Natural's Not In It", "At Home He's A Tourist" e "Damage Goods", do clássico e eterno Entertainment! (1979), não deverão faltar em Santarém.
Fora os britânicos, nas principais atrações deste ano encontram-se ainda os japoneses MONO, que conhecidos pela densidade e a intensidade das suas músicas, estão de regresso ao país para apresentar o disco Requiem For Hell (2016); os ingleses Esben and The Witch (igualmente de regresso a Portugal) para apresentar Old Terrors (2016); os (também) japoneses Bo Ningen que trazem III (2014) e novas canções a palco e ainda os suecos Träd, Gräs och Stenar.
Além disso, destaque especial este ano para as bandas da Fuzz Club – The Underground Youth, 10 000 Russos, Dead Rabbits, NONN, Throw Down Bones, The Janitors e The Gluts – e a série de concertos promovidos pelo pessoal da Amplificasom – Amenra, Oathbreaker, LÖBO, Névoa, SINISTRO e Gossamers – que prometem encher os corações de quem ainda não os viu, ou marcará presença para os rever.
Inicialmente pensado para se estrear em Santarém, o Reverence acabou por se fixar em Valada. À quarta edição, além da mudança no espaço, oferece melhores condições a todos os festivaleiros, nomeadamente a corrente elétrica e o acesso às redes móveis, além de uma localização a cinco minutos a pé da estação ferroviária. Apesar da concorrência elevada no mercado dos festivais de música em Portugal, o
Reverence volta novamente em peso no fim-de-semana de 8 e 9 de setembro no
Parque da Ribeira de Santarém, localizado nas margens do Rio Tejo. Parar é morrer e o Reverence quer-se vivo. Todas as informações adicionais podem encontrar-se aqui.
Preço dos bilhetes
Passe para os 2 dias:
55€ até 31.08.2017
65€ de 01.09.2017 até 09.09.2017
Bilhetes diários:
35€ até 31.08.2017
40€ de 01.09.2017 até 09.09.2017
Residentes nos Concelhos de Santarém e do Cartaxo:
Passe de 2 dias: 35€
Bilhete diário: 25€